By Jamey Dunham, Associate Professor of English, Sinclair Community College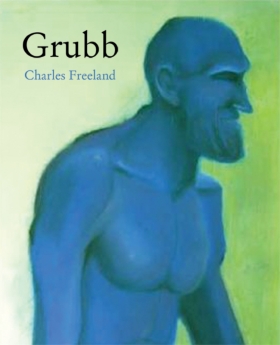 Sinclair English Professor Charles Freeland's accomplishments in poetry are well known to those in the field.  His poems have appeared in some of the most distinguished journals of the day and he is the author of several highly regarded chapbooks.  In addition, Freeland is the founding editor of The Skillet Press and in 2008 his work was honored by the Ohio Arts Council with an Individual Excellence Award.  With the recent publication of the collection "Grubb", Charles Freeland quite clearly announces his arrival at the pinnacle of what is currently being done in contemporary American Poetry.
"Grubb" is a collection of some 80 pages of verse and prose poetry centered loosely around the title character, Grubb.  A thoroughly original character, Grubb is uniquely suited to guiding the reader through the sometimes surreal, sometimes backwater landscapes of Freeland's imagination.  With subtle nods to French master Henri Michaux's "Plume" and a dab of the mischievous "Loki," Grubb begrudgingly stumbles upon an existential journey of discovery, both lovely and brutal, and often both at the same time.  In "Grubb", Freeland introduces the reader to a world, as poet Ian Seed writes, "…of laundry lists, half-eaten breakfasts and cars which won't start…And not so far beneath the zany, ever-changing surface…quieter and darker echoes of an almost-metaphysical presence, which, however inconvenient or disturbing, refuses to leave our lives."  The writing here is exquisite.  Freeland's talent is such that he effortlessly positions his narratives against an austere backdrop of dark philosophical quandary, often finding beauty in seemingly dark and inhospitable spaces
It is rare to find a poet writing at such a high level at such a young age.  It is even rarer still to find a poet of this magnitude teaching outside of a major university.  As is the trend with the majority of modern, celebrated works, Freeland's "Grubb" is available online; a movement that will no doubt continue to increase in the years to come.  The upside of this for readers is that anyone can log on and read this fantastic collection and the only expense is the time spent reading it.  As countless awards and publications attest, this is time very, very well spent.
Charles Freeland's collection "Grubb" is available online at: http://blazevox.org/ebk-cf-REAL.pdf