New food stand offers Mexican fare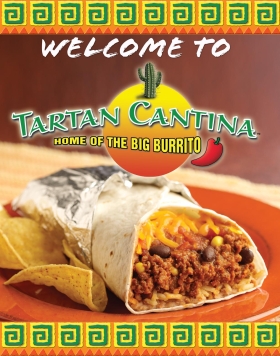 Students searching for a different flavor for lunch on campus need look no further than the Tartan Cantina.
The new food stand will offer build-your-own burritos, burrito fajitas and taco salad.  The Tartan Cantina will replace the Sports Café in the basement of Building 8. The idea is to offer something similar to popular Mexican restaurants such as Hot Heads, Moe's and Chipotle.
"We tried to come up with what works for each of those places to come up with a new venue," said Linda Young.
What will change?
Students who already use the other amenities around the old Sports Café, such as pool tables, ping-pong tables and the large seating area with televisions, can still enjoy those activities. They may have to deal with more students, however.
"We are trying to increase the flow of traffic in Building 8," said Young.
Students who need their daily fix of Skyline Chili can still get their coney dogs and three-ways in the Sub Shoppe, located on the third floor of Building 3. The pizza oven in the Sports Café has also been cleared out to make way for the burritos.
"We feel this would be a great opportunity that we don't have on campus. We offer Mexican maybe once or twice through our cycle menu," said Young.
The menu
Filling choices for the burritos and taco salads include: steak ranchero ($5.69), seasoned ground beef ($5.49), marinated chicken ($5.49), Pork Carnitas ($5.49) and Vegetarian ($4.99). Toppings include: cilantro rice, sour cream, lettuce, black beans, cheese, jalapenos, tomatoes and three different temperatures of salsa.
The Mexican soft drink Jarritos will also be available as well as several side items.
"What I think is going to be popular is the queso nachos," said Young. "The queso sauce is very tasty."