On Dec. 19, the final Democratic debate of the year marked a departure from the bland, tepid discussions viewers had become accustomed to over the past few months, instead showcasing a verbal sparring match that included some heated confrontations, stern accusations, a strong showing from one candidate and a noticeable floundering from another.

Premiering just under 24 hours from the moment that President Donald Trump was officially impeached by the House, the December Democratic debate kicked off in Los Angeles at Loyola-Marymount University days after the event had gotten tangled up in a controversy of its own after a dispute between a California union and the catering company hired for the night threatened the hold the scheduled debate in limbo.

With each of the seven candidates who qualified to appear onstage standing in solidarity with the union and vowing to not cross the picket line, officials from the Democratic National Committee scrambled to smooth things over until a last-minute resolution was met so the event could go on as planned.

The candidates in this month's debate were Former vice president Joe Biden, Sen. Bernie Sanders (Vt.), Sen. Elizabeth Warren (D-Mass.), South Bend, Ind. Mayor Pete Buttigieg, Sen. Amy Klobuchar (D-Minn.), Andrew Yang and Tom Steyer.

Both PBS Newshour and Politico acted as hosts, with moderation duties handled by Judy Woodruff, Yamiche Alcindor and Amna Nawaz of PBS alongside Politico's Tim Alberta.

Unsurprisingly, the night began with a focus on the elephant in the room: President Trump's impeachment. The question in particular, directed first at Biden, asked what the candidates could do to convince the American public that impeachment is the correct action to take against Trump seeing as how the difference between citizens who support impeachment and those who don't is split virtually down the middle.

"We need to restore the integrity of the presidency, the office of the presidency, and it's about time we get that underway," Biden said. "…my job is just to go out and make the case why he doesn't deserve to be president of the United States for another four years."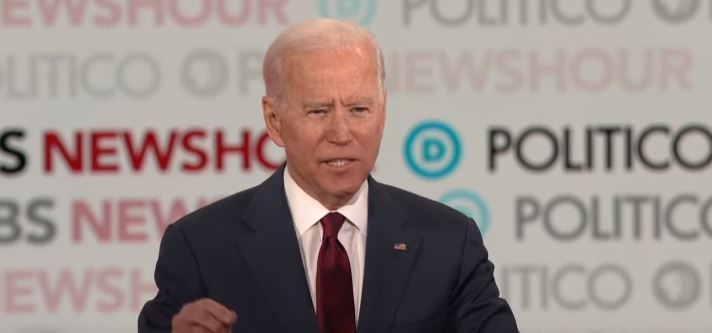 Sanders gave a harsh critique of the now-impeached president.

"We have a president who is running the most corrupt administration in the modern history of this country, and we have a president who is a fraud, because during his campaign, he told working people one thing, and he ended up doing something else," the Vermont senator said.

"I believe, and I will personally be doing this in the coming weeks and months, is making the case that we have a president who has sold out the working families of this country, who wants to cut Social Security, Medicare and Medicaid…I disagree with Trump on virtually all of his policies, but what conservatives, I think, understand is that we cannot have a president with that temperament who is dishonoring the presidency of the United States."

Warren echoed Sanders' sentiment, accusing the president of hypocrisy by saying "…this president has made corruption originally his argument that he would drain the swamp, and, yet, he came to Washington, broke that promise, and has done everything he can for the wealthy and the well-connected, from tax breaks to ambassadorships. We have to prosecute the case against him…we need…a Democrat who is willing to get out and fight not for the wealthy and well-connected but to fight for everyone else. That's why I'm in this race."

Yang chose to cast the media as the reason behind only a slim majority of Americans supporting the Trump impeachment.

"It's clear why Americans can't agree on impeachment, we're getting news from different sources, and it's making it hard for us even to agree on basic facts," said the businessman. "The media networks didn't do us any favors by missing a reason why Donald Trump became our president in the first place."

Yang further stressed that instead being concerned simply about impeaching Trump, we need to focus on fixing the economic issues that encouraged Americans to vote for Trump in the first place.

"What we have to do is we have to stop being obsessed over impeachment…and actually start digging in and solving the problems that got Donald Trump elected in the first place…we have to take every opportunity to present a new positive vision for the country…because, make no mistake, he'll be there at the ballot box for us to defeat."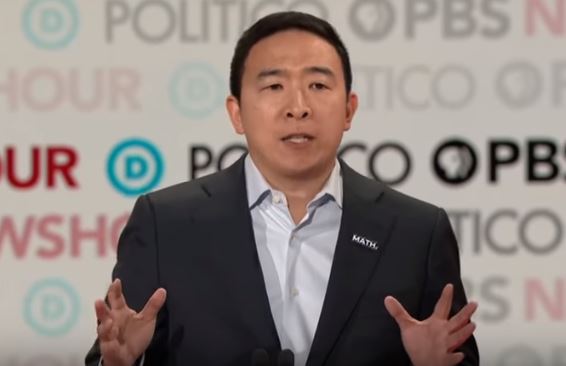 After a tame first half, it appeared that the debate was gearing up to be a repeat of the last three, with questions similar to ones given in past debates and answers repeated so often either verbatim or with little variation that it looked to be another dull two-and-a-half hours. But then, Buttigieg, who has spent the past few weeks dodging criticism from the progressive wing of the democratic party, suddenly found himself with a target on his back thanks to Warren.

In what Buttigieg took as a subliminal swipe against him, Warren remarked that "Most of the people on this stage run a traditional campaign. And that means going back and forth from coast to coast to rich people and people who can put up $5,000 bucks or more in order to have a picture taken, in order to have a conversation, and in order maybe to be considered to be an ambassador."

"People who can put down $5,000 to have a picture taken don't have the same priorities as people who are struggling with student loan debt or who are struggling to pay off medical debt," the Massachusetts senator went on to say. "We can't have people who can put down $5,000 for a check drown out the voices of everyone else. They don't in my campaign, and they won't in my White House."

Buttigieg quickly gave a retort.

"Well, can't help but feel that might have been directed at me. And here is the thing. We're in the fight of our lives right now. Donald Trump and his allies have made it abundantly clear that they will stop at nothing, not even foreign interference to hold onto power…This is our chance. This is our only chance to defeat Donald Trump. And we shouldn't try to do it with one hand tied behind our back."

Attempting to steer the conversation back toward bashing the commander-in-chief, the South Bend, Indiana mayor made it clear that in his view, "everybody" has to chip in to topple Trump in 2020.

"If that means that you're a grad student digging deep to go online to peteforamerica.com and chip in $10 bucks, that's great. And if you can drop $1,000 without blinking, that's great, too. We need everybody's help in this fight. I'm not going to turn away anyone who wants to help us defeat Donald Trump."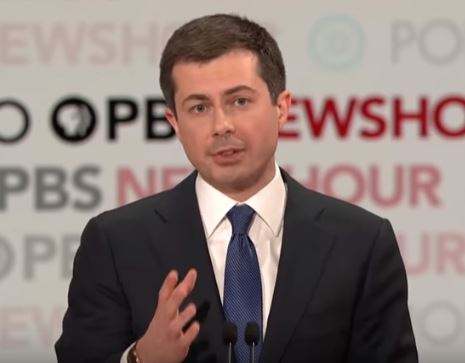 Not letting him slip away, Warren hit Buttigieg with the biggest highlight of the night, which led to the derisive anti-Buttigieg "#winecave" hashtag to trend on Twitter and eventually reach the number one slot by the debate's end.

"So the mayor just recently had a fundraiser that was held in a wine cave full of crystals and served $900-a-bottle wine. Think about who comes to that. He had promised that every fundraiser he would do would be open door, but this one was closed door," Warren noted. "We made the decision many years ago that rich people in smoke-filled rooms would not pick the next president of the United States."

Then, the senator uttered the sentence that would scar the mayor's appearance for the night.

"Billionaires in wine caves should not pick the next president of the United States."

Visibly flustered, with his lips pursing and fingers gnarled, Buttigieg offered a response.

"Senator, your net worth is 100 times mine. Now, supposing that you went home feeling the holiday spirit…and decided to go onto peteforamerica.com and gave the maximum allowable by law, $2,800, would that pollute my campaign because it came from a wealthy person? No, I would be glad to have that support. We need the support from everybody who is committed to helping us defeat Donald Trump."
Afterwards, debate moderator Alberta gave Warren a chance to offer her own response.

"I do not sell access to my time," Warren said. "I don't do call time with millionaires and billionaires."

Before the back-and-forth was cut short by the moderators, Buttigieg offered a final explanation, saying "To denounce the same kind of fundraising guidelines that President Obama went by, that Speaker Pelosi goes by, that you yourself went by until not long ago, in order to build the Democratic Party and build a campaign ready for the fight of our lives, these purity tests shrink the stakes of the most important election…"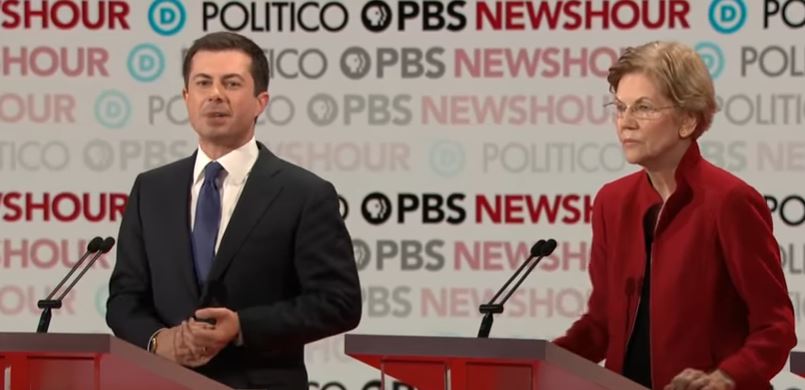 Later, the heat began to simmer down as the candidates presented familiar answers to questions regarding immigration, education, healthcare, LGBT rights and foreign policy.

The final question of the night, which asked whether the candidates would like to either ask for forgiveness from one of the others for a statement that was made earlier that night or during a previous debate or if they would like to present a fellow candidate with a gift in the spirit of the holidays, appeared to catch the men and women onstage off-guard, with Yang's puzzled look and deapan "Wow" echoing what some viewers online thought about the question as he grasped for an answer.

The clear victor of the night was without a doubt Warren. Having recently fallen down to third place behind Sanders by a razor-thin margin, her concise answers, the trimming-of-the-hedges with her previously far more ambitious healthcare plan and her Twitter-trending haymaker against Buttigieg may be enough to pull more moderate Democrats into her camp in 2020.

Sanders, Yang and Biden managed to give decent performances as well, despite Sanders' shaky first half, Yang choosing to pivot far too much toward his "Freedom Dividend" plan and Biden saying far less compared to the previous debates.

In fact, Biden was one of the candidates who spoke the least during the debate, speaking for a total of just over 16 minutes. During moments of crosstalk and verbal exchanges, the former vice president stayed noticeably mute, choosing only to voice his opinions when addressed by the moderators. After Biden's recent flubs and inaccurate statements during the year's past debates, one has to wonder if this was a deliberate strategy planned by his campaign staff.

Despite Klobuchar managing to get the second-highest amount of speaking time after Sanders (with Sanders' 20 minutes just barely eclipsing Klobuchar's 19:48), the Minnesota senator just couldn't manage to make a convincing argument, instead choosing to continually remind viewers of her Midwestern upbringing in between moderate talking points.

In the case of Buttigieg, it was a weak showing. Time will tell whether his reputation for hobnobbing with the rich and powerful will come back to bite him or propel him to the front of the race in 2020. As of now, the mayor is holding strong at fourth place in the polls and faces the unique challenge of beating both the Sanders/Warren progressive movement and Biden's far deeper and longer-running establishment ties compared to those of the ambitious 37-year-old mayor.

Quinton Bradley is an Ohio-based writer. He runs a blog called Hammers and Papyrus and can be followed on Twitter @QBAbstract.