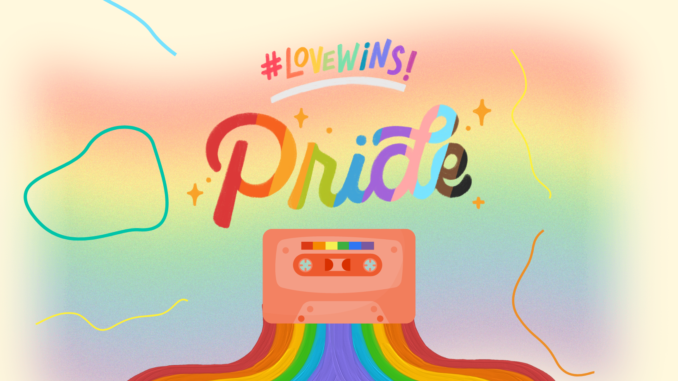 The arrival of June doesn't just mean schools are out for the summer – it also marks a time of celebration for the LGBTQ+ community.
Pride marches first began in 1970, a year after the Stonewall Uprising. These events – especially as they have gotten bigger – take extensive amounts of planning.
And like many other cities across the country, Dayton is gearing up for its 2023 Pride activities. Organizations across the area have been working tirelessly to make sure Pride is safe, inclusive, and fun for everyone.
The Greater Dayton LGBT Center is one of the main hosts of this year's Pride festival and parade entitled "United We Can." There are three segments taking place on Friday, June 2 through Sunday, June 4.
Each year's Pride is months in the making. Committee meetings begin in January or February and are part of what Executive Director Rick Flynn calls a "Pride partnership with the community."
This year's Pride festival is expected to be the biggest yet. There are an anticipated 118 vendors to be set up on downtown Dayton's Courthouse Square, including community organizations and youth programs. Flynn says that the growth from last year's 85 vendors has made it more difficult to find space for everyone. Pride is also the biggest in terms of the Center's programming.
Flynn expresses that the Greater Dayton LGBT Center quite literally is a center for people in the community. It is a place that they can go to find and be guided to resources regardless of who they are or where they come from. During our interview, he described getting calls from those needing support and those wanting to give it – not really knowing where to go.
Pride is an opportunity for the organization to make Dayton aware that they exist and aren't going away any time soon.
Being part of putting together Pride makes Flynn feel "lucky," especially because he can be around so many people who are affirming of his identity.
The same can be said for organizers Kacie Lawrence and Ky Totten. Totten is the founder of Heartsiq, a collective designed to uplift the art of LGBTQ+ creators. From their monthly showcases to their upcoming Mixtape festival, Heartsiq tries to "pack in as many forms of art as possible."
Everything about Heartsiq is new, with the organization sprouting in November 2022. Lawrence and Totten stated that they have had to work on "building a network" in the area to get people interested in the initiative. For example, they have collaborated with the Yellow Cab Tavern to have a physical space for their events.
Taking place at the same time as Pride, Mixtape will feature "live musicians, handmade vendors, Dayton's Silent Disco, drag queens, burlesque performers, film makers, spoken word, food offerings and more."
Lawrence and Totten hope that Heartsiq inspires people to continue (or even begin) their art and to just have fun with it. They feel that putting together everything is a "dream."
Among the vendors at Pride will be Sinclair's own Brite Signal Alliance. The student club attends Pride every year, bringing together current and former members to make sure it has a strong presence.
Advisor Kara Brown believes that Brite Signal Alliance being at Pride "sends a strong message about the college."
Brown called Pride the "capstone of each year" for Brite Signal. With it being at the end of the school year, it is a chance to celebrate those moving on from Sinclair. The festivities also allow the club to interact with new, current, and future students that might benefit from having them as a resource.
According to Brown, Sinclair is the only college in the area that attends Pride, meaning that Brite Signal Alliance needs to stand out.
"It is important that we are there, and we are seen," she said.
Like The Greater Dayton LGBT Center, Brite Signal Alliance has to tend to a lot of logistical matters for Pride. They also have to make sure they are equipped with materials such as brochures and stickers.
Though Pride is a lot of work for those involved, there seems to be a shared feeling of comfort and excitement. Individuals are excited to meet new people, see old friends, and just be around others that feel the same way they do.
If you're attending any Pride events this weekend or throughout the month of June, remember that they wouldn't be possible without the efforts of organizations like these. Be sure to thank vendors, performers, and organizers where possible. And most of all, stay safe and have fun!
Carly Webster
Staff Writer