"Folie à Deux" came out when I was eight years old. Fall Out Boy (FOB) was a band I enjoyed but it wasn't my favorite yet. That didn't occur until 2010 when I got my first laptop and suddenly had access to play any music I wanted. After countless times listening, I came to think of it as one of the most musically intricate and well-developed albums FOB has ever produced. However, "Folie à Deux" didn't sell well and ultimately contributed to FOB's hiatus.
There is a plot in "Folie à Deux," however, it is very hidden and not really understood without the additional "Fall Out Toy Works" comics, which was published in '09 and continued into '13. The comics are mostly unknown by many which makes talking about them all the more fun.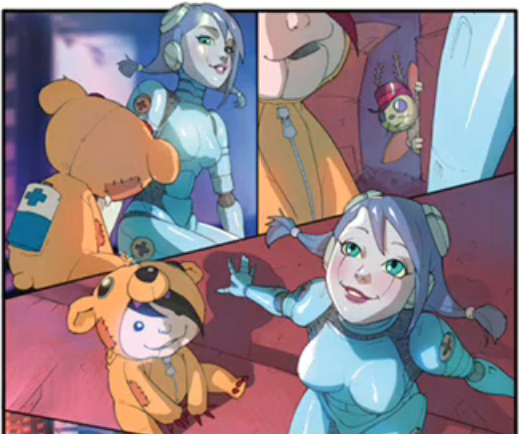 "Fall Out Toy Works" was created by Pete Wentz of FOB, Darren Romanelli and Nathan Cabrera. It is written by Brett Lewis and illustrated by members of Imaginary Friends Studios. The story is a cyberpunk tale set in futuristic LA centered around a gynoid (female android) named Tiffany, the Toymaker's perfect creation. Think "Pinocchio" meets "Pygmalion."
Baron is the main antagonist and his company controls the production of pretty much everything in Los Angeles, even the weather but he has no control over his relationships. He asks the Toymaker to create a robot wife for him, named Tiffany. Talking about the story any farther without spoiling the ending is hard.
The trade paperback and webcomic version both had the final page of issue 5 removed, which changed the entire tone of the ending. (It is relatively easy to find online, though.) There are so many things that the comics explain, even the meaning of the album's cover art: the bear is a boy robot named Crybaby.
To promote "Folie à Deux," the whole label of Decaydance Records artists did a mixtape of demos and custom songs called "Welcome to the New Administration." The promotional campaign began on Aug. 18, 2008, when Decaydance's website was supposedly hacked by a shady group called "Citizens For Our Betterment."
The link led to the group's website which was red, white and blue. Links on the page were blocked needing specific IP addresses to work. The Decaydance site was normal the following day. 
The Citizens for Our Betterment web page was updated every day, many posts referring to Nov. 4, the same day as the 2008 U.S. presidential election. The locked links were gradually opened and by Aug. 24, one link led to a page saying "FOB – The Return – November Four" in large big bold letters.
This caused some fans to believe that Fall Out Boy would release their new album on Nov. 4. Others theorized that this was another one of Pete's attempts to raise political awareness as he previously held a rally for then U.S. Democratic Party presidential candidate Barack Obama. Members of FOB members are publicly democrats. 
Many bands from the Fueled by Ramen label posted on MySpace that same day with the title "Welcome to the New Administration." Every post contained the word ten. On Aug. 25, the Citizens for Our Betterment website was redirected to the band's Friends or Enemies page. On which was an image of a voting booth and ballots with the names of several Decaydance artists. 
By clicking on each individual ballot, there was an audio clip from the band reading past posts on the Citizens for Our Betterment website. A mixtape was then made available for download. Listen to it here: https://www.youtube.com/watch?v=HUZKSsP8Sdo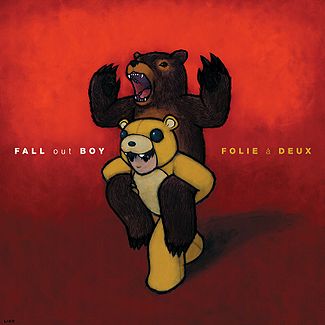 As for the album itself, the album "Folie à Deux" itself is perfectly gapless as every song fades into the next. It starts with a hidden track called "Lullabye." It's a charming track featuring just acoustic guitar and Patrick singing. "Disloyal Order Of Water Buffaloes" is the first official song. The hook goes: "I'm a loose bolt of a complete machine. What a match, I'm half doomed and you're semi-sweet." These lines set the tone of the album with industrial elements and dark storytelling. The world of the Toymaker and how it intertwines with the music. 
"I Don't Care" kicks off with a classic rock tone, and the accompanying music video is zany and weird. Gilby Clarke from Guns N' Roses starts the video by saying, "what the hell happened to rock and roll? Eyeliner? Energy drinks? And no guitar solos? I've taken sh*ts with bigger rock stars than them!"
The video is filled with miscellaneous sights. There's the infamous spaghetti cat clip, band members dressed as nuns, Joe flashing people – and it ends with everyone removing a mask and being a different rock star. Clarke himself reveals himself being Sarah Palin in the end, winks.
It's an all-round weird video. A reminder that '08 was a different time, but all and all it fit into the political climate.
Next on the album is "She's My Winona," named after actress Winona Ryder. It is a true bop and a slower-paced song with the chorus of "hell or glory, I don't want anything in between. Then came a baby boy with long eyelashes. And daddy said 'you gotta show the world the thunder'."  
This is followed by "America's Suitehearts" with its nightmare carnival aesthetic that really adds to the story of the album and causes a lot of the nonsense to make sense. 
"Headfirst Slide Into Cooperstown On A Bad Bet," in which the beat goes hard but the lyrics go harder, follows. It's a song blatantly about infidelity within a relationship. Considering Pete Wentz's divorce, it's safe to assume that this was somewhat based in reality.
The music video is labeled as "A Weekend At Pete Rose's," and is on the old FriendsOrEnemies YouTube channel. In it, Panic! At The Disco's Brendon Urie and Spencer Smith carry Pete's dead body around the city. 
"The (Shipped) Gold Standard" is a sad masterpiece about fearing loving another person. This was written before gay marriage was legalized and at a time where the LGBT+ community found safety within emo music and the Fall Out Boy fan base because FOB supported them.
"(Coffee's For Closers)" is a song about lost faith, and it hits hard especially with its placement behind "The (Shipped) Gold Standard".
"What A Catch, Donnie" has a music video and it's an odd, nostalgic chronicle of the band's (at the time of the video's creation) seven-year history. Filled with memorabilia for other music videos, the video shows Patrick saving his fellow bandmates, as well as Brendon Urie and Spencer Smith. The end of the song includes lines from Fall Out Boy's most iconic songs at the time.
"27" jumps the pace back up to fast rock and fades into (all songs fade, but this is the best fade on the record) my favorite song on the album, "Tiffany Blews." The song makes almost no sense at all lyrically but musically it slaps. The best explanation I can give is that it's about a hot girl. Lil Wayne has a spoken section that is my favorite part. "Not the boy I was, the boy I am is just venting – venting. Dear gravity, you held me down in this starless city." It's such a perfect moment of breath in a nonstop album.
Next is "w.a.m.s.," which is an acronym that has never had a confirmed meaning. But, the bass in it is so good, and the ending's stripped vocals are as well!
"20 Dollar Nose Bleed" is about drug abuse. It includes vocals from Brendon Urie and ends with a creepy poem by Pete Wentz. "It's not me, it's you, actually, it's the taxidermy of you and me / Untie the balloons from around my neck and ground me / I'm just a racehorse on the track, send me back to the glue factory…"
"West Coast Smoker" has the futuristic synth sound that ties the whole album together and that sound is on full display. The vocals pulsing with the music is almost spiritual. I'm skipping the remixes and acoustic versions off of the deluxe version. Instead, I'm hopping over to the bonus tracks.
"Pavlove" is criminally underrated, and such a good song. The heavy rock cover of Michael Jackson's "Beat It" is also wonderful.
I love this album because every song in it is amazing – it goes without saying, "Folie à Deux" is my favorite album by my favorite band. 
LeAnne McPherson
Multimedia Specialist & Reporter