The road to WrestleMania began this past Sunday at the Royal Rumble. Men and women aspire to win the Royal Rumble because it is a career-altering victory. A win in the Royal Rumble means you earn yourself a championship match at on the "Grandest Stage of them all," WrestleMania.
Over 40 thousand people packed themselves into Minute-Maid Park in Houston, TX to witness the Royal Rumble PPV (Pay Per View). 
Sheamus v. Shorty G
Sheamus has vowed to change the face of SmackDown since returning to WWE after a long hiatus due to injury. He focused his first target on Shorty G.
The match was fairly short but was a good match between the two. Shorty G looked to roll-up for an upset win. But, Sheamus was able to roll out and then hit the Brogue Kick on Shorty G for the pin and the win.
Andrade v. Humberto Carillo: United States Championship
The next match sees Andrade defend the United States Championship against Humberto Carrillo. Since becoming United States Champion, Andrade has been on a mission to prove he is the greatest luchador in history.
He put Humberto on the shelf at the TLC (Tables, Ladders & Chairs) PPV, and then defeated and humiliated Rey Mysterio over a series of weeks. However, this past Monday on Raw, Humberto returned and set his sights on getting revenge on Andrade.
The match was a good back and forth contest. Each man seemed to try to get a clear advantage over each other. The high-flying abilities of Humberto was in full effect as he chased Andrade's United States Championship. However, Andrade used his instincts and was able to roll up Humberto for the win, retaining the United States Championship.
Related Articles
King Corbin v. Roman Reigns: Falls Count Anywhere Match
The show kicks off with a long-standing rivalry that has been boiling for months between King Corbin and Roman Reigns. For months, King Corbin has made Roman's life miserable and humiliating. King Corbin, alongside his entourage of Dolph Ziggler & Robert Roode handcuffed Roman to the ringpost and poured dog food all over him last month. Can Roman put King Corbin in his rear-view mirror?
The match started off pretty mild. However, once the two took advantage of the Falls Count Anywhere stipulation and entered the crowd around Minute-Maid Park, the action began to heat up. The two put each other through tables and used their environment to their advantage, even a portapotty came into play. 
Corbin's entourage eventually interfered and attacked Roman. However, Roman's cousins, The Usos came to aid Roman and even the odds.
Once, it came back down to Roman & Corbin, the two migrated to the top of the dugout. The two continued to brawl, however, Roman was able to hit a Superman Punch which was followed by a spear on Corbin for the pin and the win. Roman finally has put Corbin in his past and focus on trying to win the Royal Rumble and secure his ticket to WrestleMania.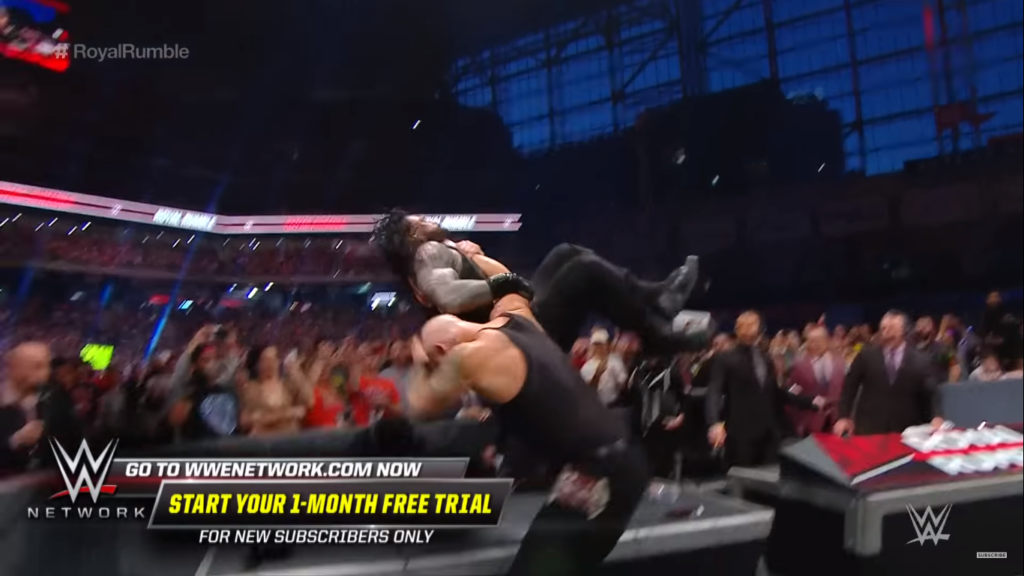 Women's Royal Rumble Match
The third Women's Royal Rumble match didn't have a ton of build heading into the match. To the day, only a handful of women declared for the match, meaning there were numerous spots open for endless opportunities.
SmackDown's Alexa Bliss & NXT's Bianca Belair started off the Rumble. The Royal Rumble is a fan favorite because of the unexpected surprises and returns. The first surprise was "Mighty" Molly Holly. She took down Bianca & Alexa with a big dive.
Nikki Cross, Lana & Mercedez Martinez were the next to enter the Rumble. Then, Liv Morgan entered the match and set her eyes on her rival Lana. Liv eliminated Lana from the Rumble, but Lana got her revenge after she eliminated Liv.
Mandy Rose was the next to enter the Rumble. Meanwhile in the ring, "Mighty" Molly was the next to bite the dust and was eliminated.
Candice LaRae was the next to enter the Rumble. The action is starting to build in the ring. Mandy seems to get eliminated, but laying at ringside is Otis from Heavy Machinery to save her from elimination. Otis and Mandy for weeks seem to be building a tad bit of chemistry and this save only solidifies that Otis will do anything for Mandy Rose.
Out next is Mandy's tag team partner Sonya Deville. Fire & Desire (Mandy & Sonya) team up to eliminate Mercedez. 
Out next were next ½ of the WWE Women's Tag Team Champions Kairi Sayne and Mia Yim. Bianca has seemingly been dominating the Rumble. She eliminated Nikki Cross, Mandy Rose, Sonya Deville and Candice LaRae. While on the other side Alexa took out Kairi Sayne and Mia Yim.
Dana Brooke and Tamina are the next entrants. Tamina's return is cut short as she is eliminated by Bianca in no time. Dakota Kai is next followed by Chelsea Green. Chelsea took out Dakota, but then is eliminated by Alexa Bliss. Bianca then took out both Dana Brooke and then Alexa Bliss. Bianca was at the moment the only woman in the ring.
Then, Charlotte Flair enters the Royal Rumble. The 10 time Women's Champion looks to make history yet again and win get back to the main event of WrestleMania.
The returning Naomi, Hall of Famer Beth Phoenix, and Toni Storm are the next entrants in the Royal Rumble. In the ring, Charlotte eliminated Bianca Belair. Bianca broke the record of eliminations in a Women's Royal Rumble match with eight.
Kelly Kelly is the next entrant followed by Sarah Logan. Both of their nights are cut short thanks to Charlotte. 
Natalya, Xia Li, Zelina Vega, and Shotzi Blackheart are next to enter the Rumble. In the ring, Naomi avoids elimination but seems to find herself in a predicament because she is all the way on the announce table and needs to find her way back to the ring without her feet touching the floor.
As she is waiting, Carmella, Tegan Nox and Santina Marella are the next to enter. Santina (Santino Marella) reunites with his former partner Beth Phoenix. Santina then pulls out the Cobra, but ends up hitting himself and then eliminating herself from the match.
No. 30 in the Women's Royal Rumble was the former NXT Women's Champion Shayna Baszler. Shayna came in as an eliminating machine. She eliminated Xia Li, Tegan Nox, Zelina Vega, Shotzi Blackheart, Toni Storm, Carmella, and Naomi (who used a piece of the announce table as a bridge to get back in the ring).
The final four are Natalya, Charlotte Flair, Beth Phoenix & Shayna Baszler. Beth is banged up after suffering a cut on the back of her head during the match. Beth got revenge on her friend Natalya by eliminating her from the Rumble. Beth was then eliminated by Shayna matching Bianca's record of eliminations of eight.
The final two are Shayana Baszler & Charlotte Flair. Shayna attempted several times to eliminate Charlotte, but it ended up backfiring as Charlotte was able to eliminate Shayna to win the 2020 Women's Royal Rumble. Charlotte is going to WrestleMania to challenge for an opportunity to become an 11-time Women's Champion.
Bayley v. Lacey Evans: SmackDown Women's Championship
Bayley for weeks has been trying to wipe out Lacey Evans and show why she is the role model the Women's Division needs. 
The match was a decent back and forth contest. Throughout the match, Bayley always seemed to be one step ahead of Lacey and it showed in the end.
Lacey looked to be closing in on victory and the Championship, but as she attempted her moonsault, Bayley was able to get her knees up and roll up Lacey for the pin and the win. Bayley has successfully defended her SmackDown Women's Championship and seemingly put Lacey Evans behind her.
Daniel Bryan v. "The Fiend" Bray Wyatt: Strap Match for the Universal Championship
For months, the Fiend has been tormenting Daniel Bryan and the torment made Daniel change who he is. Daniel cut his hair and shaved his beard, symbolically shaving who he was. Daniel, however, has seemingly gotten in the head of Bray and looks to leave Houston as Universal Champion.
The infamous red lighting that had been dawning the Fiend's matches seemingly is no more. The match starts fast and furious. However, the monstrous Wyatt powerbombs him and begins using the strap to his advantage.
Daniel fights back and tries to even the pain and suffering. He uses the strap to his advantage as he locks in the YES! Lock, but Wyatt was able to break out. The two continue to go back and forth in distributing pain of the leather strap. 
Daniel tries to continue the momentum, but the Fiend locks in the Mandible Claw slam and pins Daniel Bryan to retain the Universal Championship.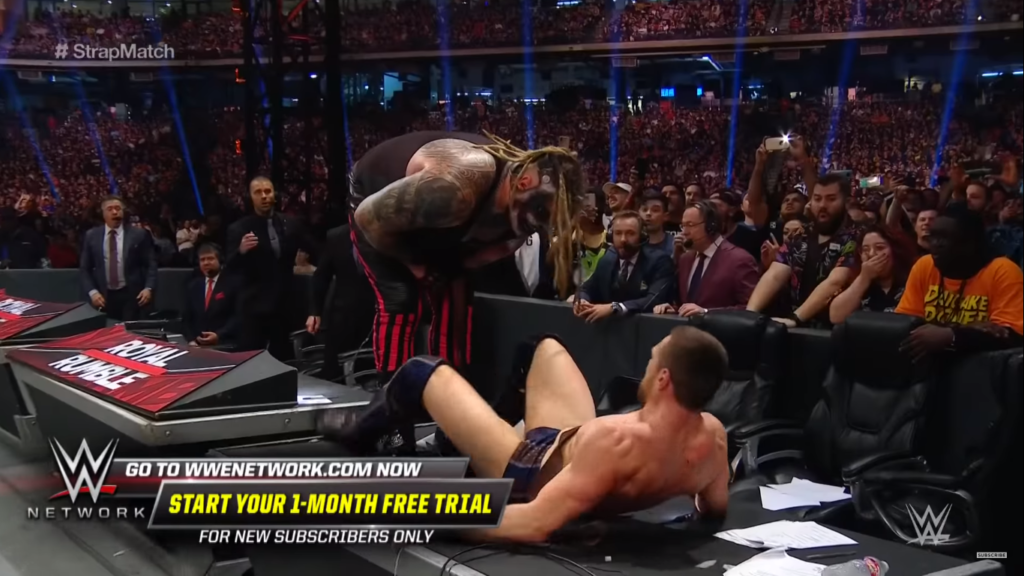 Asuka v. Becky Lynch: Raw Women's Championship
Becky has done it all over the last year and a half since shifting into the Man. However, the one thing she hasn't yet accomplished is defeating Asuka. 
The intense battle between the two began with hard-hitting shots and massive suplexes to the outside. The two would continue war all around the ring. 
Asuka was able to hit a massive head kick to Becky which seemingly knocked Becky out. With the last bit of heart in her, Becky stopped the referee from stopping the match.
Becky then used what power she had left to kick and dodge Asuka's mist attack and lock in the Disarmer for the submission victory. Becky Lynch has finally defeated Asuka and continues her reign as Raw Women's Champion.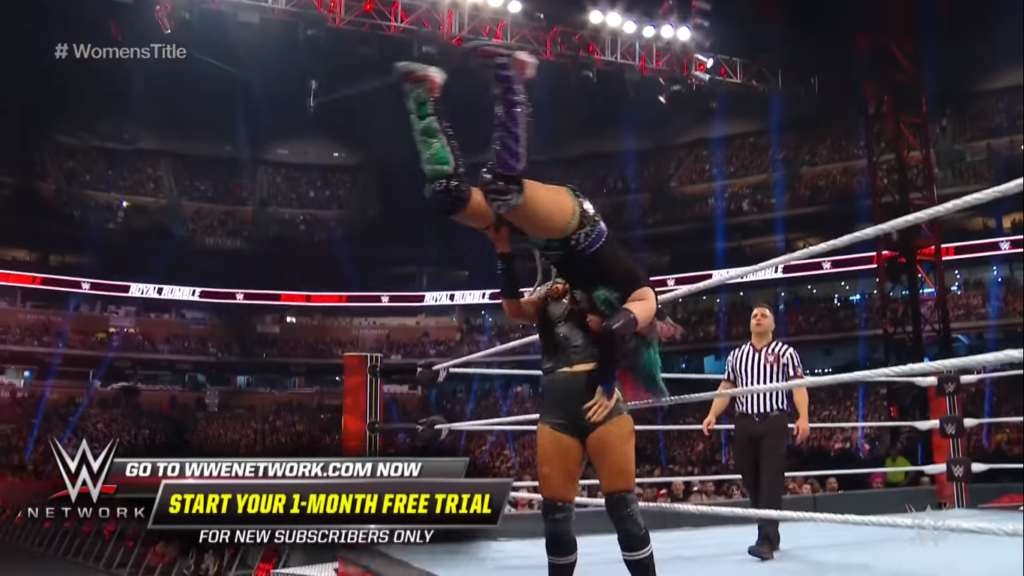 Men's Royal Rumble Match
It's main event time as the Men's Royal Rumble takes place. 30 men will look to punch their ticket to WrestleMania, but standing in the way of 29 of those competitors is the Beast, the WWE Champion Brock Lesnar. Will there be someone who can topple the Beast and be one step closer to main eventing WrestleMania?
Brock Lesnar announced weeks ago that he was entering the Royal Rumble as the first entrant. Elias was the second entrant. As he walked down, he played a song to Brock, which enraged the Beast.
Brock makes short work of Elias and throws him out of the ring. Brock does the same for Erik Rowan, Robert Roode, and John Morrison. Out next was Kofi Kingston. Kofi was the man that Brock defeated for the WWE Championship in October on SmackDown's debut episode on Fox in about eight seconds. Kofi lasts longer than eight seconds with Brock in the ring and eventually gets backup.
Rey Mysterio is the next entrant and now Brock has to fight off two people who he has had lots of history in recent months. The two try to fend off Brock, but he is too much to handle. Kofi's tag team partner Big E is next and he tries to motivate Kofi and Rey to team up to eliminate Brock. However, Brock is too much to conquer as he throws all three men over the top rope.
Cesaro, Shelton Benjamin, Shinsuke Nakamura and the returning M.V.P (Montel Vontavious Porter) are eliminated by Lesnar in quick succession. Keith Lee is the next entrant and has an intense staredown with Brock. Which was followed by Braun Strowman. The two behemoths team up to try to eliminate Brock, however, they end up fighting each other and both get eliminated by Brock.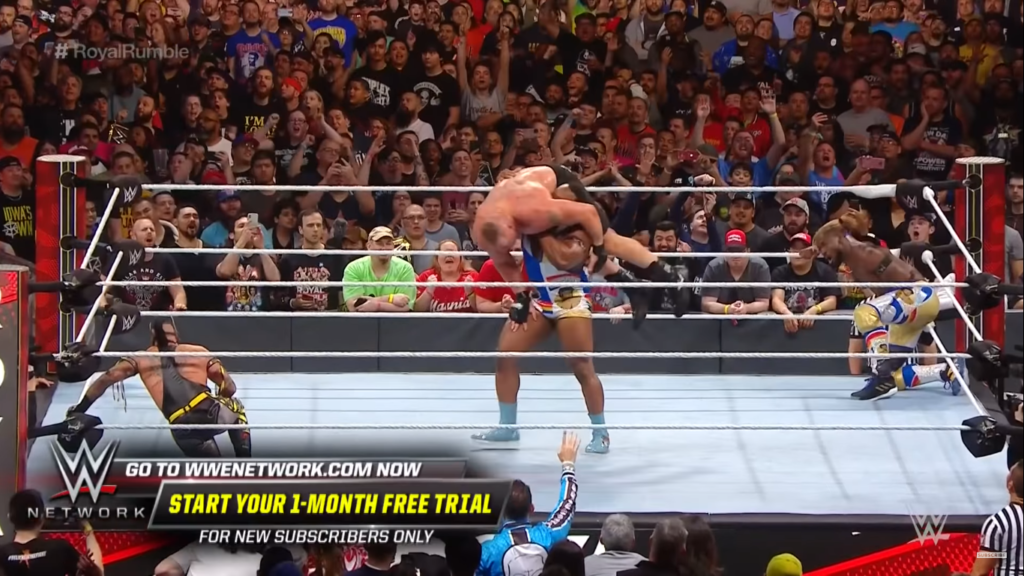 Ricochet is next out as he looks to get some revenge on Brock for the cheap shot on Raw the past week. He gets ragdolled, until Drew McIntyre made his way to the ring. Brock and Drew lock eyes, which allows Ricochet to hit a low blow on Lesnar which was then followed by a Claymore kick by Drew that eliminates Brock from the Rumble.
The crowd explodes with excitement seeing Lesnar finally get eliminated. After he is eliminated, Drew eliminates Ricochet and continues to stare down Brock and his WWE Championship.
The Miz is next and is quickly eliminated. Drew continues to stare a hole through Lesnar as he departs. AJ Styles is next in the match followed by Dolph Ziggler and Karl Anderson. Karl & AJ of the OC team up and try to beat down whoever is in the ring. What happened next is one of, if not the biggest moment in Royal Rumble history.
At no. 21, after nine long years, the Rated-R Superstar, Edge made his long-awaited return. Minute-Maid Park exploded in one of the crowdest crowd reactions ever. He overcame retirement and is finally back in a WWE ring. A truly special and emotional moment.
King Corbin is out next, followed by Matt Riddle. Riddle is quickly eliminated by Corbin. Luke Gallows enters next to help his tag team partner Karl Anderson. Meanwhile, Drew eliminates King Corbin.
Randy Orton is out next and reunites with his former Team Rated RKO partner, Edge. Roman Reigns out next and eliminates Dolph Ziggler. Kevin Owens, Aleister Black & Samoa Joe then make their way to the ring.
At no. 30 is last year's Royal Rumble winner, the Monday Night Messiah, Seth Rollins. Seth is flanked by his partners Akam & Rezar (Authors of Pain) & Buddy Murphy. The four men help Seth take out Aleister Black, Samoa Joe & Kevin Owens. Those three men then go after Seth's men and brawl to the back, leaving Seth all alone. Edge, Roman, Randy and Drew all team up to eliminate Seth Rollins.
Team Rated RKO team up and beat down Drew and Roman, however, Randy looks to try and hit an RKO on Edge. Edge then returns the favor by eliminating Randy.
The final three are Edge, Roman Reigns, & Drew McIntyre. Roman and Edge battle over the top rope, but it's Roman who is able to finally eliminate Edge.
The final two comes down to Roman Reigns & Drew McIntyre. Roman looks to finally hit one more spear and eliminate Drew. However, Drew was able to hit the Claymore and eliminate Roman Reigns to win the 2020 Men's Royal Rumble match.
Drew McIntyre is going to WrestleMania. For the first time in his career, Drew finally has an opportunity at either the WWE or Universal Championship. To think Drew was fired in 2014 and to look six years later, Drew McIntyre has won the Royal Rumble match and is going to WrestleMania for a Championship match.
Overall Thoughts
This was a very good Royal Rumble PPV. The epic returns like Edge and special moments brought out every emotion in my body. Charlotte winning the Rumble was honestly a downer because Charlotte is in yet another Championship match at WrestleMania.
However, Drew eliminating Brock and then going on to win the Royal Rumble to cap off the night was truly special. The Road to WrestleMania has begun.
David Jacobus
Staff Writer