NXT continues to be the most talked-about brand in sports entertainment. After defeating Raw & SmackDown at Survivor Series, NXT continues to strive to be the top brand in WWE.
Also, coming off the heels of a hellacious War Games event, battle lines have been drawn and possible contenders have made their names known.
Last week, we learned that Finn Balor has no intention to align himself with NXT Champion Adam Cole and the Undisputed Era because he has one thing in mind and that is the NXT Championship. We also saw the debut of the new Dakota Kai after her heinous betrayal at War Games on her once best friend, what is next for Kai after turning to the dark side? After a couple weeks, welcome back to the NXT Review.
Killian Dain v. Pete Dunne
NXT begins with Killian Dain in the ring begging for a fight. He was scheduled to face Damien Priest, but Damien is suffering an injury, but that is not going to stop the Beast of Belfast from a fight.
The man that answered the challenge was the Brusierweight Pete Dunne. These two have an extended rivalry with each other, the latest installment coming when Pete Dunne escaped with a victory in their triple-threat match at TakeOver.
These two heavy strikers went back and forth in a brutal opening contest. Both are still showing their wounds from TakeOver but still laid it all on the line in this matchup.
Killian Dain looked to be closing in on the victory with his Vader Bomb, but Pete Dunne climbed up and locked in a sleeper. With nowhere to go, Killian Dain leaped from the middle rope with Pete on his back straight to the mat. Killian landed on Pete for the pin and the win. What a hellacious opening contest to open NXT. Two brawlers with an extensive history leaving it all in the ring.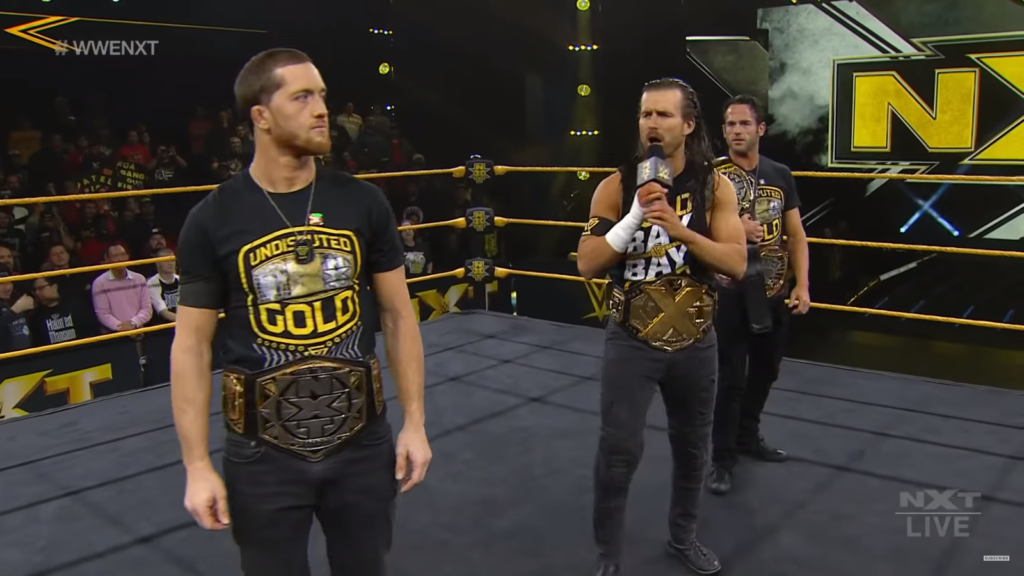 The Undisputed Era's November to Remember
The Undisputed Era had a victorious November. From going to SmackDown and Raw and beating their best, then their victorious Survivor Series weekend, the U.E. had a November to Remember. However, the way their November ended was not how they wanted to wrap it up: From an injury to one half of the NXT Tag Team Champions Bobby Fish and then Keith Lee pouncing Adam Cole all the way into the crowd and finally Finn Balor laying out Adam Cole. Adam Cole and the U.E. want answers and called out Finn Balor.
However, Keith Lee made his way to the ring. Keith Lee raised his stock to major heights in November by being on the winning side in War Games and standing toe-to-toe with Seth Rollins and Roman Reigns at Survivor Series. He was on the winning side in War Games at TakeOver. Keith has become a star on the rise, but what was next for him heading towards his future in NXT?
Keith locked eyes on each of the U.E's gold, trying to decide on which title he would be coming for next. However, the U.E. attacked and tried to use the numbers game against Keith, but the powerhouse had none of it. The U.E. attempted to run off, but Tommaso Ciampa came from behind and got him a piece of the U.E.
When the U.E. ran off, Tommaso took grasp of Adam Cole's NXT Championship. When will Tommaso get his shot to reclaim his "Goldie?"
Related Articles
Xia Li v. Shayna Bazler
NXT Women's Champion Shayna Baszler had a game-changing November. She went to Raw and Smackdown, taking down Becky Lynch and Bayley, the champions of their respective shows. While her team lost at War Games, she was victorius in a triple threat against Lynch and Bayley in the main event of Survivor Series, rising the stock of the black and gold brand.
Last week, Shayna celebrated her victory by showing her dominance on the entire women's division. Shayna never needed to make friends to get to the top and she exerted her dominance by taking down anyone who might oppose her for her NXT Women's Championship.
Xia Li attempted to use her fighting spirit to get a surprise upset over Shayna. However, Shayna was way too dominant and powerful and was able to use her Kirifuda Clutch for the submission victory. Who is going to be the one to stop the dominance of Shayna Baszler?
The Forgotten Sons v. Evolve Talents
The Forgotten Sons have been looking for an opportunity to show their dominance and brutality. This was the night as they took on a pair of Evolve talents. Steve Cutler and Wesley Blake made short work of the duo as they dominated from the opening bell. They easily paved their way to victory after hitting a massive tandem stomp.
After the match, Jaxson Riker hit one of the talents with a chokeslam over the rope and onto the apron. The Forgotten Sons should not be overlooked in the tag team scene in NXT.
Rhea Ripley v. Dakota Kai
At TakeOver, Dakota Kai was supposed to be on the side of Rhea Ripley in the War Games match. But, we soon realized that she was the one who attacked Mia Yim before TakeOver. Which followed by attacking and brutalizing Tegan Nox during the War Games match.
Before the match, Rhea had a surprise for Dakota Kai. It was the returning Mia Yim. Mia Yim got her revenge on Dakota Kai for costing her a shot to be in the War Game match. Dakota attempted to run, but Rhea made sure to stop that. Dakota was able to run with Mia not too far behind.
NXT Women's Champion Shayna Baszler and her Horsewomen ambushed Rhea. Rhea attempted to fight off Shayna and her trio but the numbers were too much for her, as Shayna was able to lock Rhea in the Kirifuda Clutch with the assistance of her Horsewomen. Shayna then stated that on Dec. 18, she will put her NXT Women's Championship on the line against Rhea Ripley.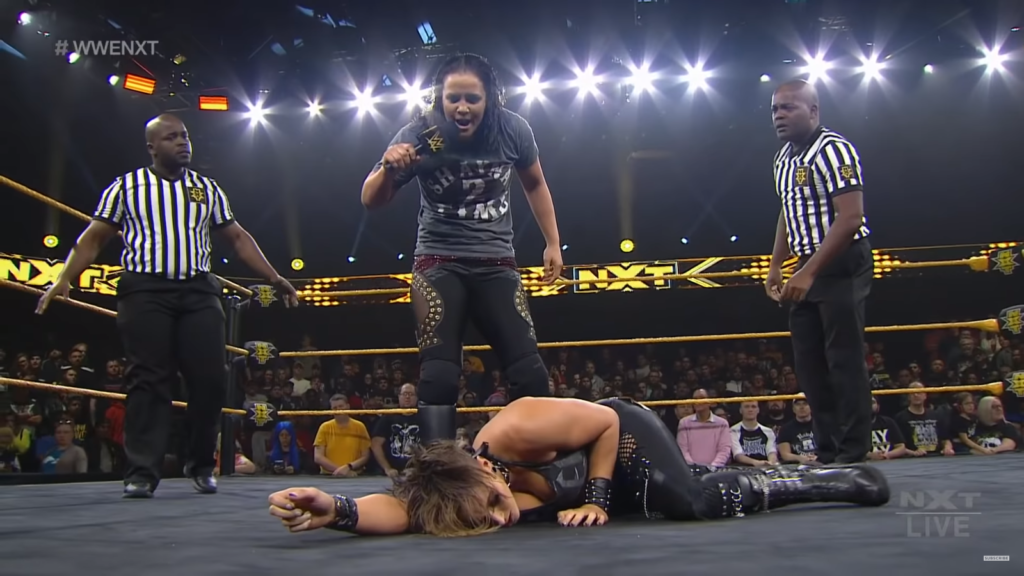 Kassius Ohno v. Matt Riddle
Kassius Ohno has been making his name well known on the NXT UK brand for months. He has come back to NXT to represent the UK brand in an open challenge. The Original Bro Matt Riddle answered the challenge. Matt and Kassisus have a history as foes, but it was always Matt getting the victory, can Kassius finally get a win over Matt Riddle for the NXT UK brand?
These two put intense matchup. Lots of impactful strikes and big moves in a highly contested back and forth. Neither man seemed to find an opportunity to finish the match. However, it was Matt Riddle who found a slight opening and hit a massive knee. Which was followed by Broderick for the pin and the win. Yet another big victory by the Original Bro.
KUSHIDA v. Cameron Grimes
After a two month absence due to injury, the Time Splitter KUSHIDA made his return to NXT. He was supposed to face Raul Mendoza, but Cameron Grimes ambushed Raul and inserted himself into the match.
In a very fast-paced match by two young and upcoming talents, KUSHIDA was able to rollup Cameron for a surprise victory. KUSHIDA is back and the best way to return is with a victory.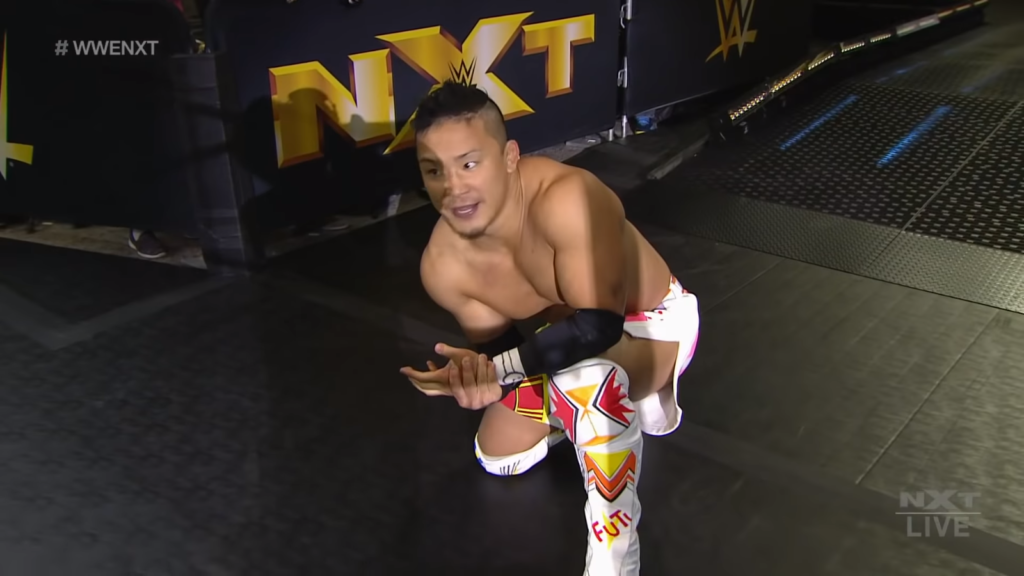 Undisputed Era v. Tommaso Ciampa, Keith Lee & Dominic Dijakovic
In the main event of the evening, it is a six-man tag involving men that have been going at each other for months. Earlier in the night, tension began to boil over, but Tommaso and Keith found Dominik Dijakovic to be their partner for this match.
These two teams slugged it out in an all-out war. Both teams hit each other with every shot in their arsenal. They threw major shots, high flying leaps and all-out intense action.
Adam Cole seemed to be gaining the advantage for the U.E. but, Finn Balor appeared and hit Cole with the shotgun dropkick, which collided with the referee. Finn then hit the 1916 on Tomasso Ciampa. He seemed to be closing in on another dropkick to Cole, but Keith Lee rose from behind and laid out Finn. Keith then laid out Adam Cole for the pin and the win.
NXT General Manager William Regal announced that on Dec. 18, Adam Cole will defend the NXT Championship. That is why he made a match for next week involving Finn Balor, Tommaso Ciampa and Keith Lee where the winner will face Adam Cole on Dec. 18 for the NXT Championship.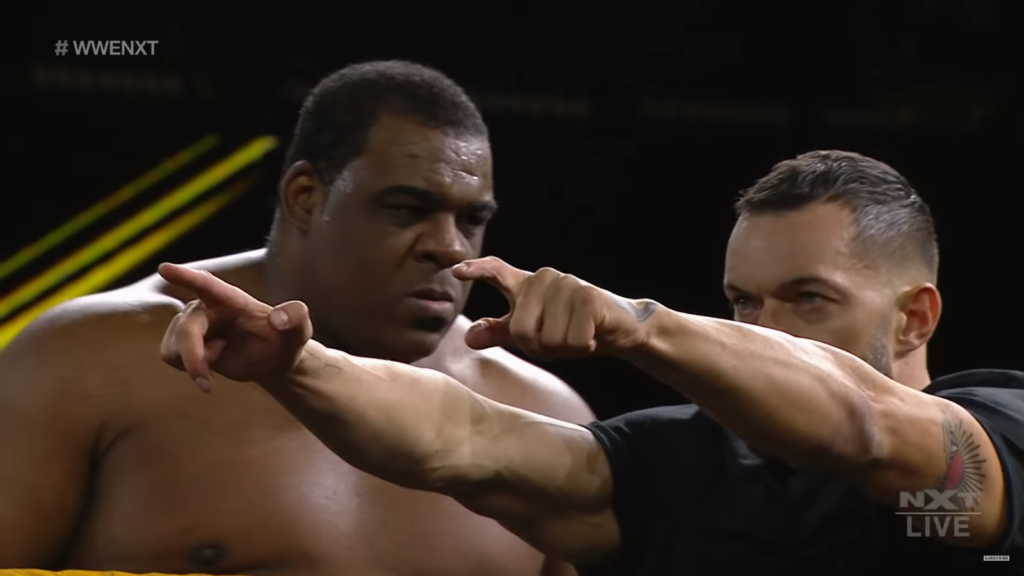 Conclusion
Yet another great episode of NXT full of hard-hitting action and heated rivalries. WWE's hottest brand continues to captivate and shock the world, as it remains the #1 brand in sports entertainment. Wednesday nights will never be the same again.
David Jacobus
Staff Writer