On the eve of Nov. 20, myself and Clarion colleague David Jacobus went to Indianapolis to see All Elite Wrestling (AEW) live in the Farmers Collesium for my first live wrestling event in six years.
The night featured a huge announcement from Le Champion Chris Jericho, a tag team clash between Santana & Ortiz and Private Party and Jon Moxley taking on Darby Allin in the main event. How did it all stack up?
Fenix vs Nick Jackson
Jackson, one of the Young Bucks, faced Fenix in the former's first singles match since 2015. The two went back and forth with many super and other variations of kicks. In a very athletic and entertaining bout, Fenix beat Jackson after hitting a Muscle Buster Driver.
The action was fast and furious, but I did get turned off with how much of it was not sold. Sequences of the match would involve the two kicking each other in the face a couple times before the other would go down. It's a minor complaint that took me out of the match at times.
Either way, most of the crowd were dazzled by this match and enjoyed it, and it was a very hot way to kick off the show.
Hikaru Shida vs Britt Baker
Shida and Baker had a very quick, serviceable match. The dentist wasn't able to lock in the Lockjaw, and lost after a Falcon Arrow/running knee combo from Shida.
While I know about Baker's character and I like her, I know nothing about Shida. She's similar to Riho, just a very good wrestler who has a wooden sword she carries to the ring. I have no idea what her goals/character is besides "I wrestle good and want the championship."
Following this, an ad showed for The Dark Order, further fleshing out their gimmick. The group is targetting downtrodden and marginalized people to join their ranks. It was a fun watch and served its purpose.
Related Articles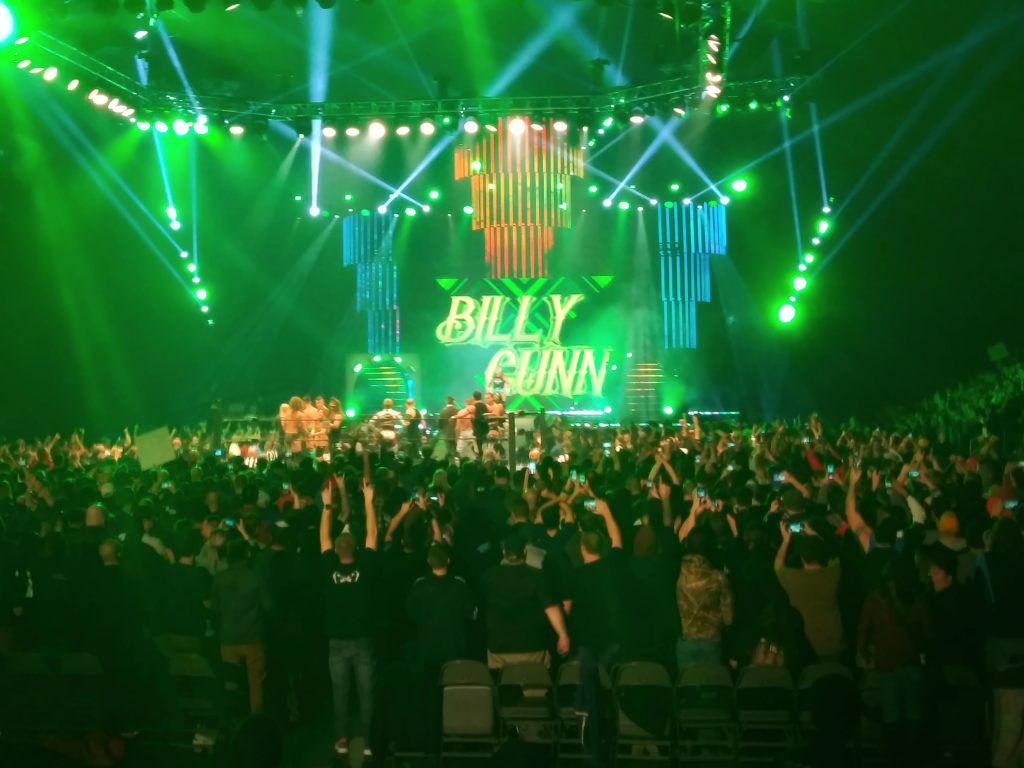 The Dynamite Dozen Battle Royal
This match featured 12 stars fighting until two are left, and those two will face off next week on Dynamite for a ring. I have no idea what makes the ring important, and the show has not done a good job of explaining it.
The match includes MJF, "Hangman" Adam Page, Jungleboy, Marko Stunt, Chuck Taylor, Pentagon Jr., Orange Cassidy, Sonny Kiss, Joey Janella, Jimmy Havoc, Kip Sabian and the surprise appearance of Billy Gunn, who looks incredibly massive compared to everyone else in the match.
It was typical battle royal stuff, with several eliminations happening from the outside to build more storylines. Some highlights include Kiss twerking for Gunn (the former "ass man"), Havoc using a staple gun on damn near everyone involved in the match, Cassidy facing off against Gunn and a member of the audience two seats over from me shouting "YOU'RE A F****** HORSE" at Page.
The match ended after MJF pulled Jungleboy off of the apron from the outside. It was kind of an anti-climatic ending, but I do look forward to MJF and Page facing off next week.
MJF played the spoiler role the entire match, taking out favorites like Kiss and Cassidy. He got the biggest boos of the night by far and will be the biggest heel in AEW in no time.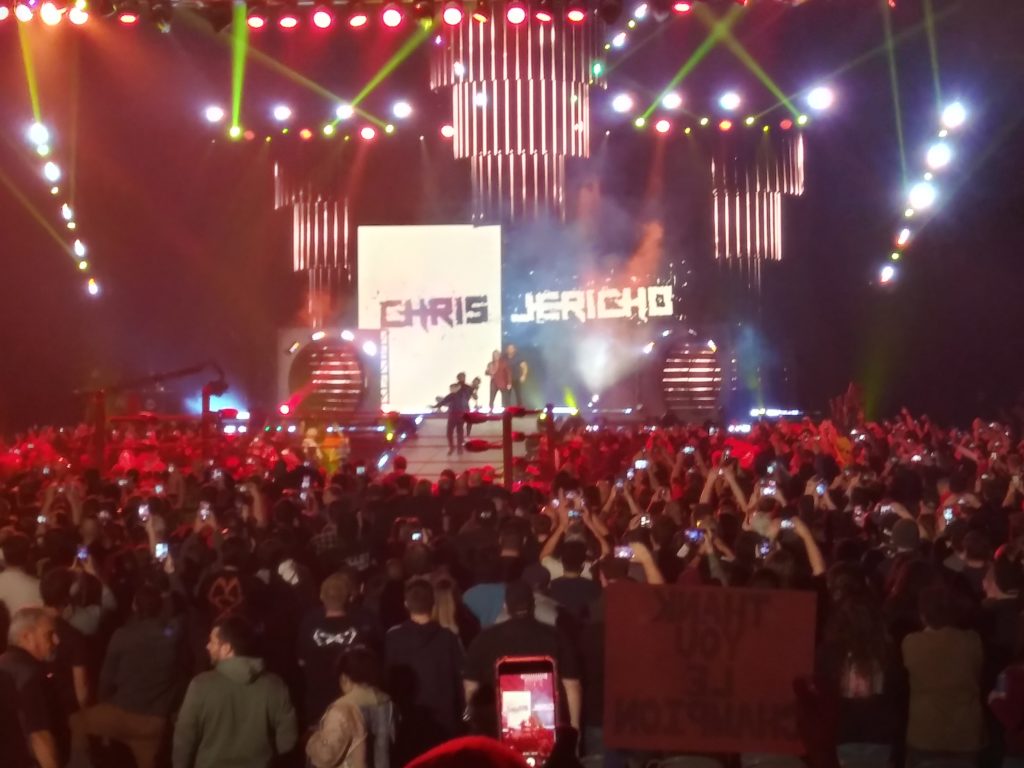 Chris Jericho Makes a Huge Announcement
Le Champion made his way to the ring, flanked by Jake Hager. Jericho states that he was fined for his temper tantrum following his loss to SCU's Scorpio Sky last week.
He attempts to apologize, but pulls a Fonz and can't get the word "sorry" out, and has Hager say it instead. It was a funny bit.
The champ then announced the "Chris Jericho's Thanksgiving Thank You Celebration" for next week's Dynamite in Chicago. He will have a ridiculous celebration with an aquarium and will get his thank you from the AEW wrestlers, management and fans.
As he was wrapping up, SCU made their way to the ring, and Sky gloated about his victory. Riled up, Jericho challenged Sky to a match next week, and through the old "Looney Tunes" bit SCU goaded Jericho into putting the AEW Championship on the line.
Following this, the Inner Circle ran out and took the California tiro down, only stopped once Jurassic Express made the save.
This was a great segment to see live, with many fun exchanges between Jericho and Sky. It was a good follow-up to last week's main event and sets up a banger match for next week.
Luchasaurus also squashed "The Librarian" Peter Avalon after this match.
Private Party vs Santana & Ortiz
The next match pits two young hungry teams against each other. In a tribute to Matt Travis, a man who helped train both teams, the two duos had a nice match. 
Notable spots included any time Marq Quen leaped (he is super impressive on TV, but seeing the grace and hangtime he gets on his moves in person is awe-inspiring), a stalling switching vertical suplex from S&O that lasted for at least an uninterrupted minute and the finish of Private Party hitting the Gin and Juice finisher, which is incredible.
It was a nice match with a lot of good selling of the back from Quen, but it was taken down a notch with a botched three count that took the crowd out of it. The teams recovered nicely though and gave the fans something to remember.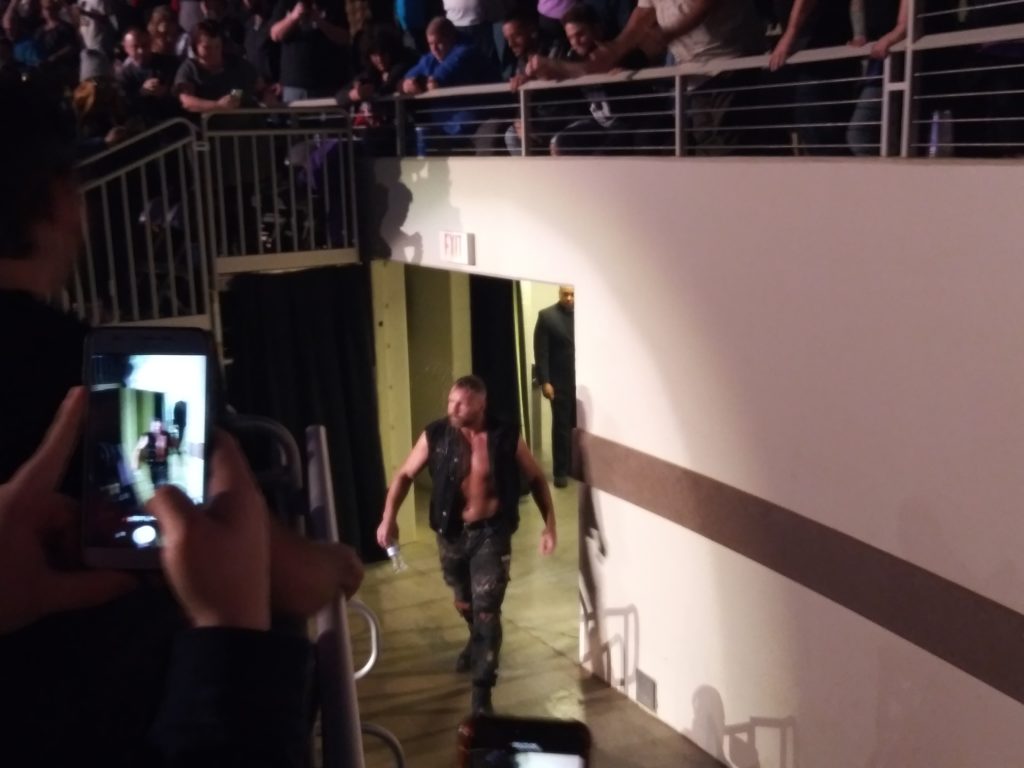 Jon Moxley vs Darby Allin
The main event was Allin accepting Moxley's challenge from last week, coming to the ring in a bodybag with Mox's name on it. A very cool entrance. Mox came sauntering to the ring and earned arguably the biggest pop of the night.
Allin wasted no time by fighting Moxley on the outside before the bell could ring. The two would trade some big moves back and forth, with Allin barely holding on at points, resorting to biting the fingers of Moxley.
The finish came when Mox hit a Paradigm Shift from the middle rope, an absolutely sick bump for Allin. It was my match of the night and was a great showcase for Allin while making Moxley look like a killer.
Allin was one of the guys I knew nothing about when AEW started but has really won me over with his daredevil style and great fighting spirit. I just hope the company capitalizes on him early, as I don't think he will have a very long, sustainable career with some of the moves he does.
Final Thoughts
Overall, this was an awesome episode of Dynamite that flew by. The advertised matches delivered, there were a lot of good moments with Jericho and SCU and I'm super excited for what we'll see next week.
The live experience was a lot of fun as well. The arena was similar in size to Hara Arena and there were about 2,500-3,000 fans in attendance. It was a more intimate atmosphere that felt like everyone was invested in the action.
I definitely recommend watching AEW's show and checking them out live if you get the chance. You're guaranteed some awesome action, good promos and a raucous crowd.
Henry Wolski
Associate Editor