We are inching closer and closer to Survivor Series weekend where NXT will be prevalent not only at NXT TakeOver: War Games but also the following night at Survivor Series as NXT battles for brand supremacy against Raw and SmackDown.
Last week, the OC invaded Full Sail University and invaded the show. Will there be another invasion in NXT as we get closer to Survivor Series? Also, who will be the woman who gives their team the person advantage heading into War Games?
Lio Rush v. Angel Garza: NXT Cruiserweight Championship
Angel Garza has been gaining momentum on a weekly basis. His flamboyant attitude and his athletic ability have led him to become the #1 contender for the NXT Cruiserweight Championship.
Garza has been playing mind games with the Champion Lio Rush for weeks, but now it was time to put up or shut up as the two battle for the NXT Cruiserweight Championship.
The two started this championship match with high flying and fast-paced offense. Both talented cruiserweights battled with their heart and determination knowing what is on the line. Garza looked to get in the mind of Lio and throw him off his game as he did his signature tearing of his pants in front of Lio's wife and kids who was sitting front row.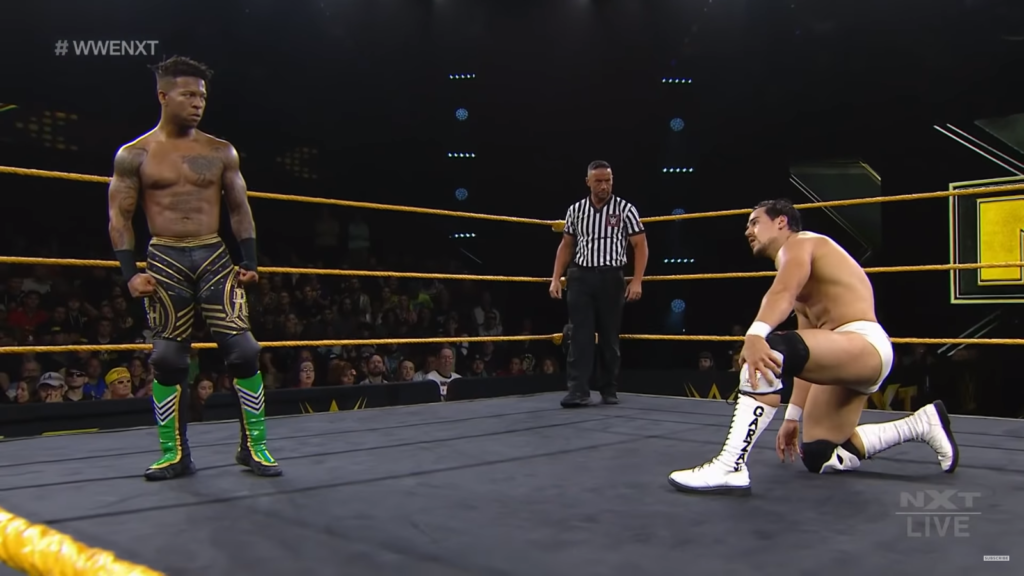 That incensed Lio to go after Angel with everything in his being. But, Angel knew one slip up could lead to Lio losing his title. That is why he was able to catch Lio and hit his double underhook slam, but it was not enough to put Lio away.
The two continued to wage a vicious battle, neither wanting to give up any advantage. Lio was able to get the advantage by hitting not one, but two Final Hour Frog Splashes (a fitting homage on the anniversary of the passing of the late, great Eddie Guerrero) for the pin and the win. However, on the last Final Hour Splash, it looked like Angel's foot was on the rope but the referee missed it.
This opening match brought the crowd instantly out of their seats. The Full Sail crowd is always hot and loud, and this match showed definitely showed what makes the Full Sail crowd so incredible.
Team Rhea Ripley Attacked
After the opening match, cameras rushed to the back and showed that Rhea Ripley and Tegan Nox were attacked. Tegan had been holding her shoulder and Rhea had been knocked out.
Was this attack by Shayna's team or was there someone else who wants to send a message to Shayna to be the final partner?
Related Articles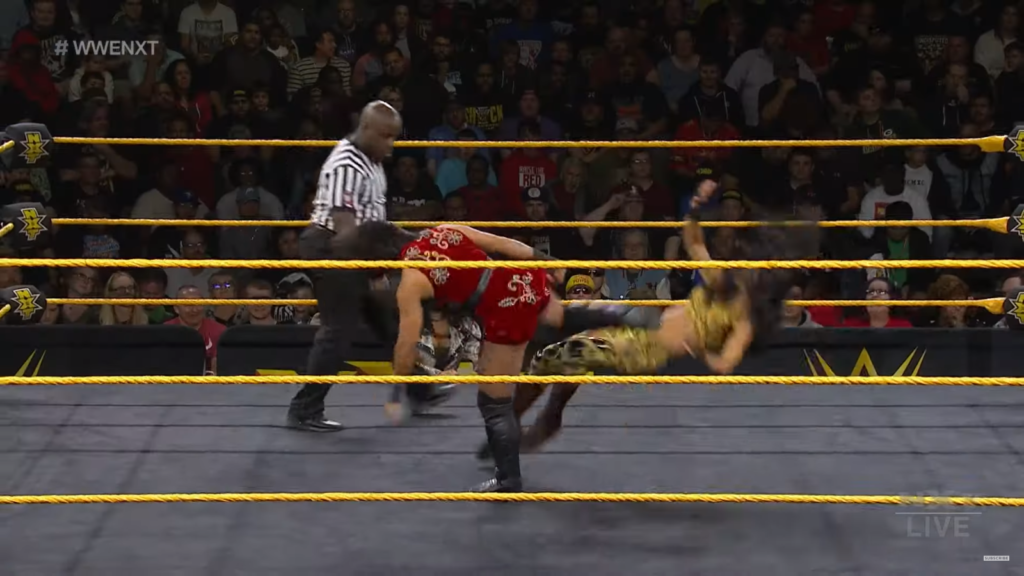 Xia Li v. Aliyah
It was now time for two young women in the NXT Women's Division to gain momentum with this opportunity in the spotlight of NXT. The flashy and athletic Aliyah seems to overcome the intense and powerful Xia Li.
The match was a solid back and forth contest. Aliyah looked to try to gain an advantage with her partner Vanessa Bourneat ringside, but Xia's intensity was too much.
Xia was able to counter an underhanded move Aliyah attempted to do and hit Aliyah with a massive kick for the pin and the win. After the match, it seemed that there was blood coming from either Aliyah's mouth or nose.
NXT is the House that Finn Balor Built
Finn Balor has been making a major impact since his return and has tried to bring NXT back to the way he built it four years ago. Finn stated that NXT has completely changed with a bunch of soft boys who want sympathy.
This all stems from Johnny Gargano's announcement that he cannot compete during Survivor Series weekend due to injury. Finn then called out Matt Riddle and stated that he is ready for a fight whenever he wants it. I guess Riddle wanted it right away because he ran down to the ring and both himself and Riddle brawled. Riddle was able to run off Finn but his fight was not over as the Undisputed Era made their way to ringside.
The Undisputed Era attempted to surround Riddle, but Keith Lee and Tommaso Ciampa made their way to the ring to help Riddle. Lee heard enough of the Undisputed Era's nonsense and challenged one of them to a match. Roderick Strong accepted the challenge.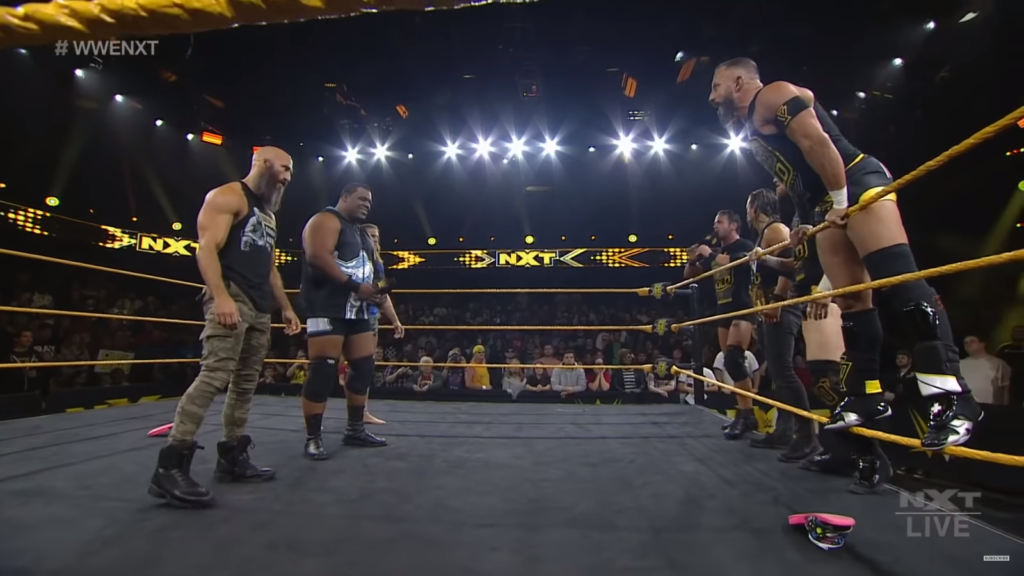 Keith Lee v. Roderick Strong
The match then started then and there. Keith Lee tossed Roderick into the ring and dominated the first segment of the match. How is Roderick going to overcome the size difference against Keith Lee?
Keith Lee is superhuman. There are few men who possess the intense strength and incredible athleticism of Keith Lee. I guess that is why he wants everyone to bask in his glory.
Roderick was able to muster up some offense to finally even the advantage of the massive size of Keith Lee. Once neither man had a clear advantage, the two slugged it out with massive blows and intense strikes to each other. But, once this turned into a slugfest, there is no one who has more painful strikes than Keith Lee.
The battle continued to intensify in the ring, the battle outside of the ring intensified as well. As the battle continued outside the ring, Finn Balor returned back to ringside and attacked Matt Riddle. The distraction looked to be in the favor of Roderick, but it was not enough as Keith Lee was able to pin Roderick Strong.
After the match, Undisputed Era rushed the ring and beat down Ciampa and Lee. But, Dominik Dijakovic made his way to the ring and laid out every member of Undisputed Era.
Dominik locked eyes with both Tommaso Ciampa and rival Keith Lee. He shook both their hands meaning he is the final member for Ciampa's team in the Men's War Games match at TakeOver.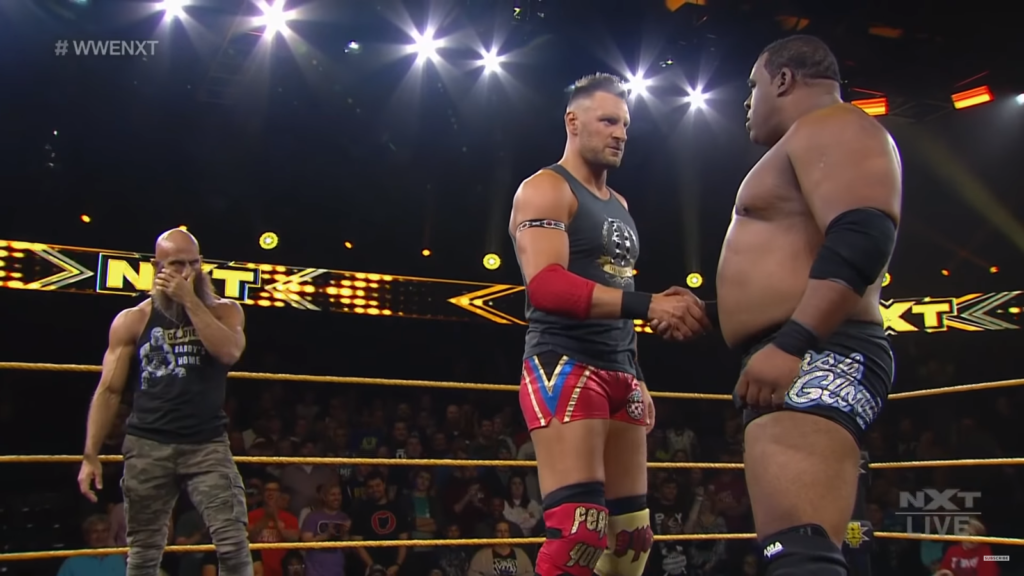 Candice LeRae, Jessamyn Duke and Marina Shafir Attacked
As NXT returned, Mauro Ranallo got word of commotion going on backstage. When cameras arrived, it showed Jessamyn Duke, Marina Shafir and Candace LeRae were ambushed and laid out. Who is attacking members of the NXT Women's Division and why?
Isaiah "Swerve" Scott v. Bronson Reed
Two of NXT brightest young stars square off as the fast and high flying Isaiah "Swerve" Scott takes on the massive and powerful Bronson Reed. Who will win this battle of these two very different wrestling styles?
Swerve attempted to use his speed to take a quick advantage, but the size of Bronson was too much to wear down the behemoth. However, when the match migrated to ringside, Swerve was able to push Bronson into the ring post, seemingly push the advantage back in the favor of Swerve.
The two continued to go back and forth, but it was the athleticism of Swerve who was able to hit a massive kick to the back of Bronson's head and pin and defeat the massive athlete. The sky's the limit for both of these young stars of NXT. Both have tons of potential heading towards their futures.
Pete Dunne v. Killian Dain
Killian Dain has ambushed Pete Dunne for a number of weeks. It was now to finally settle it in the ring. However, before the match, Damien Priest ambushed Killian Dain from behind, getting revenge for the attack last week.
Security attempted to separate the men but they were not powerful enough to stop Damien Priest. Priest laid out all of them and then laid out Pete Dunne and Killian Dain in the process. The tempers are at a boiling point between these three men with all trying to get the better of one another.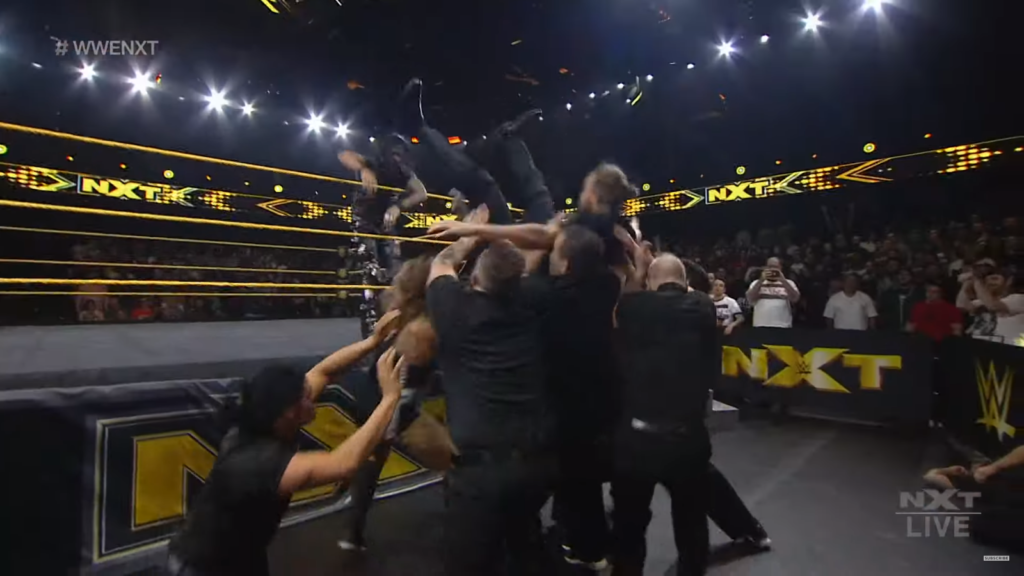 Io Shirai v. Mia Yim: Ladder Match to get the Person Advantage at War Games
These women know what winning this ladder match means heading into War Games. the winner gives their team the first entrant into war games, allowing them a two on one advantage. These women have to be on high alert as well after the heinous attacks happening during the night.
These two ladies did not wait to bring ladders into this battle. Another advantage of winning this match could be injuring their opponent so neither are 100% heading to War Games.
Mia and Shirai went through hell, hitting each other with everything in their arsenal and in the environment. Io seemed to be injured with a serious hand injury while Mia was cut open by a missile dropkick and a ladder hitting her in the face.
Dakota Kai came down to ringside to make sure no one would interfere and cost Mia the win. However, in a shocker that no one saw coming, NXT UK Women's Champion Kay Lee Ray came down to the ring and ambushed Dakota.
She then pushed Mia from the top of the ladder, through a ladder that was bridged on the apron and a guardrail. Kay Lee Ray would then help Io up the ladder where she took the briefcase, securing the women's advantage at War Games for Shayna Baszler's team.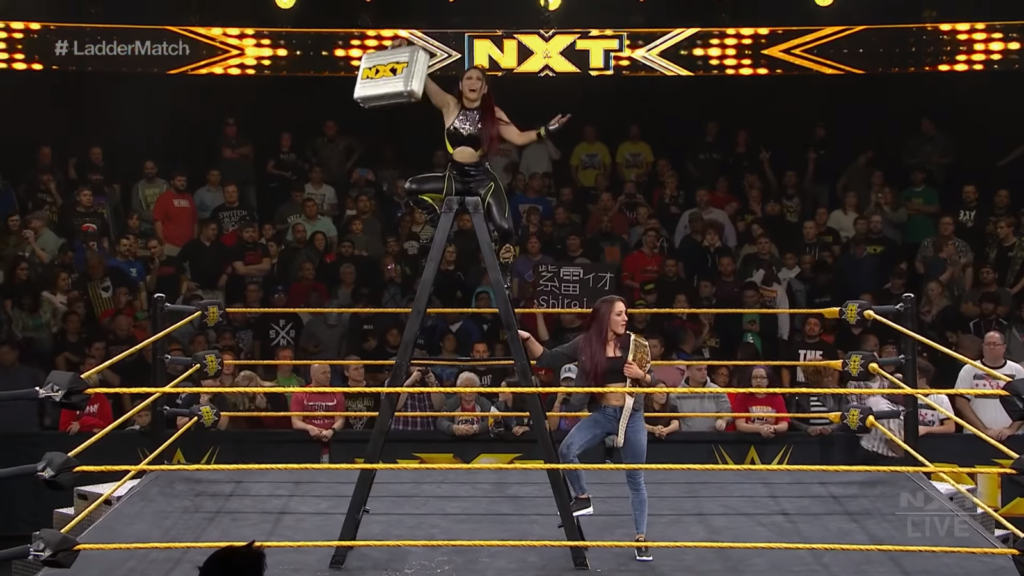 After the match, the rest of Team Baszler came down to the ring to introduce the newest member of the team for War Games, Kay Lee Ray.
Before NXT went off the air, SmackDown Women's Champion Bayley ambushed and laid out the NXT Women's Champion Shayna Baszler. A message heard loud and clear. It is SmackDown vs. Raw vs. NXT. The War is on and Survivor Series Weekend cannot get here quick enough.
Conclusion
This is getting repetitive, but this was yet another stellar episode of NXT. With the announcement of Matt Riddle vs. Finn Balor, who is going to replace Riddle in the War Games match at TakeOver?
Also, with the addition of NXT UK Women's Champion Kay Lee Ray to War Games, TakeOver is destined to have yet another eye-opening show that leaves the crowd on the edge of their seats. Wednesday nights will never be the same again.
David Jacobus
Staff Writer