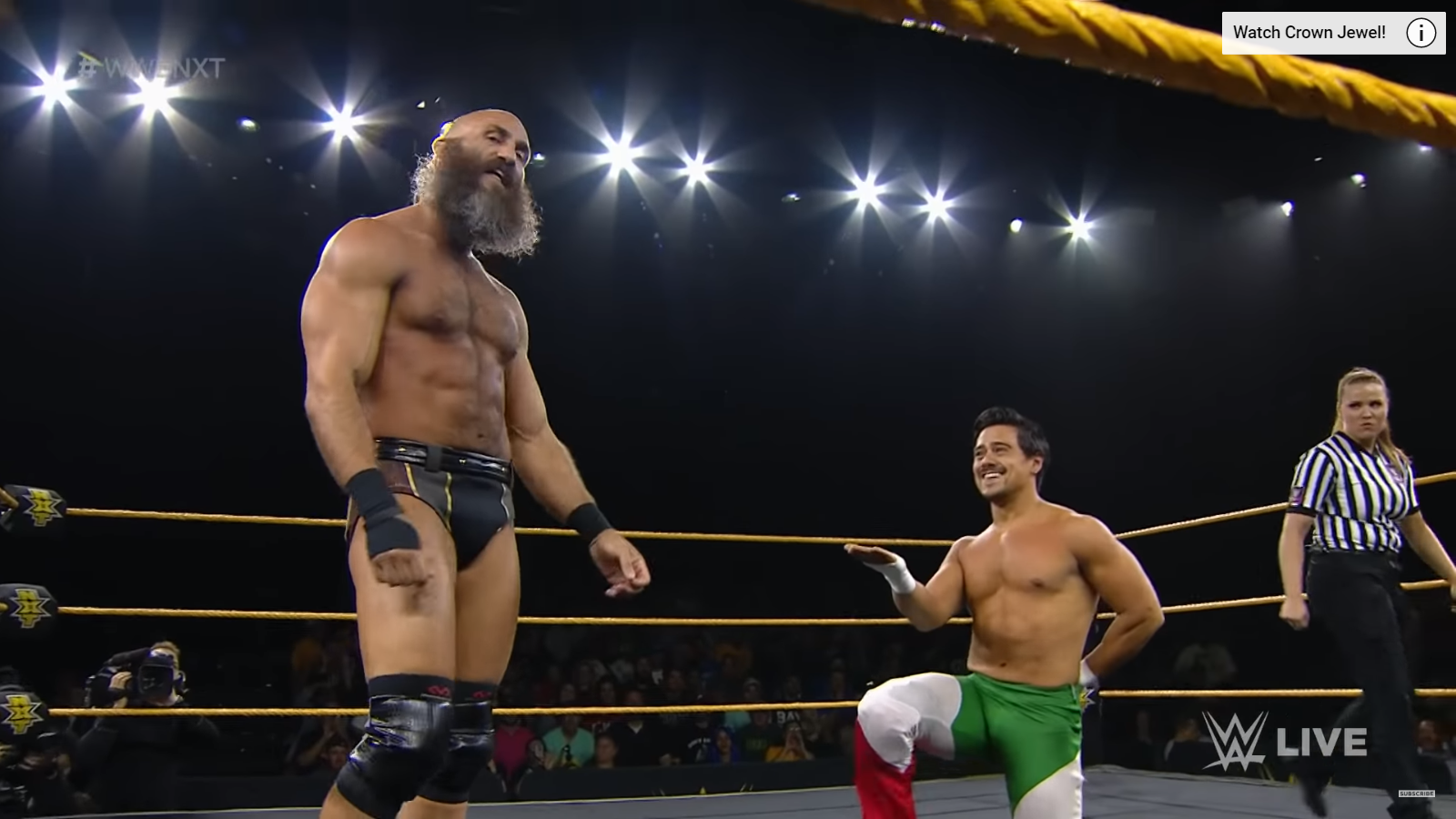 Daddy's home. For the first time in nearly eight months the Blackheart, Tommaso Ciampa returns to action. His journey to get "Goldie" back in his grasp begins tonight.
Tommaso Ciampa v. Angel Garza
For the first time since a debilitating neck injury forced him to relinquish the NXT Championship and sidelined Tommaso Ciampa for nearly eight months, he returns to Full Sail University and NXT. His first challenger is the cocky young high flyer Angel Garza who attempted to get in the face of Ciampa last week.
Ciampa showed the entire world that he has not missed a beat. After a few hiccups, Ciampa dominated Angel from bell to bell, which ultimately ended with Ciampa hitting the Widow's Bell DDT for the pin and the win.
After the match, The Undisputed Era came down to ringside. Kyle O'Reilly then handed Mauro Ranallo a USB drive and told him he should look at that. What is on the USB?
The footage showed a laid out Velveteen Dream. The Undisputed Era sent a strong message to the entire locker room that they are tired of being overlooked and not heard. Adam Cole sent a strong message to all that if anyone gets in their way, they will suffer the same fate as Velveteen Dream.
The Undisputed Era only continues to grow in strength and with all the gold, who is going to stop them?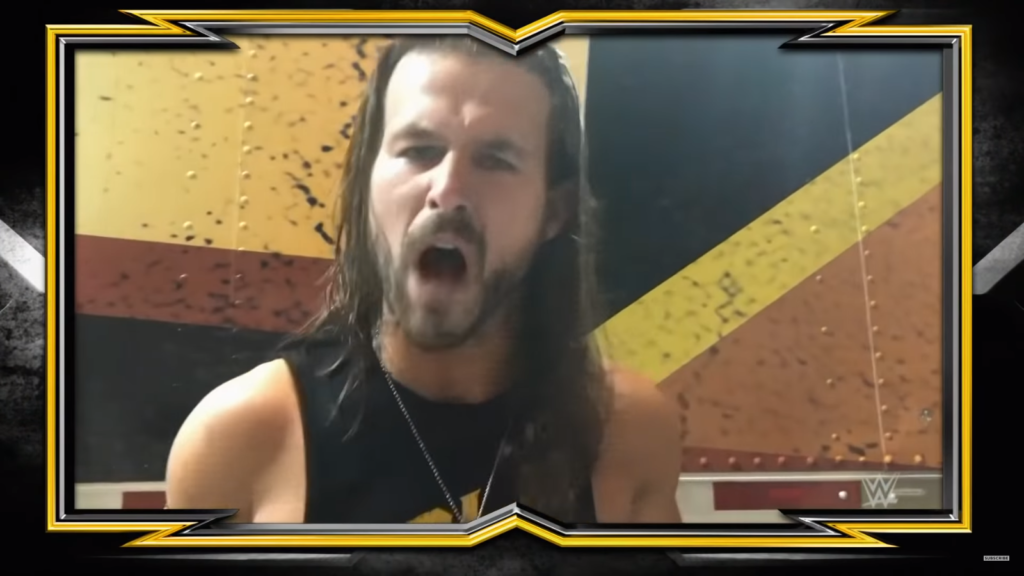 Related Articles
Danny Burch & Oney Lorcan v. Fabian Aichner & Marcel Bartel
One of NXT's young tag teams in Burch & Lorcan look to raise their stock in the tag team ranks of NXT.
However, the challenge from Imperium's Aichner & Bartel is going to be a massive challenge that stands across the ring. Who is going to gain momentum in the NXT tag team division?
What a match! These two teams threw the entire toolbox at each other. They hit each other with every stiff shot in their arsenals. However, it was Imperium who was able to divide and conquer. They were able to take Burch out of the match which led Imperium to use the numbers to finish off Lorcan.
They hit a massive spinebuster which was followed by a massive kick to the face, finally ending with their massive Uppercut Powerbomb combination for the pin and the win. Imperium is continuing to gain momentum and is looking to TakeOver NXT.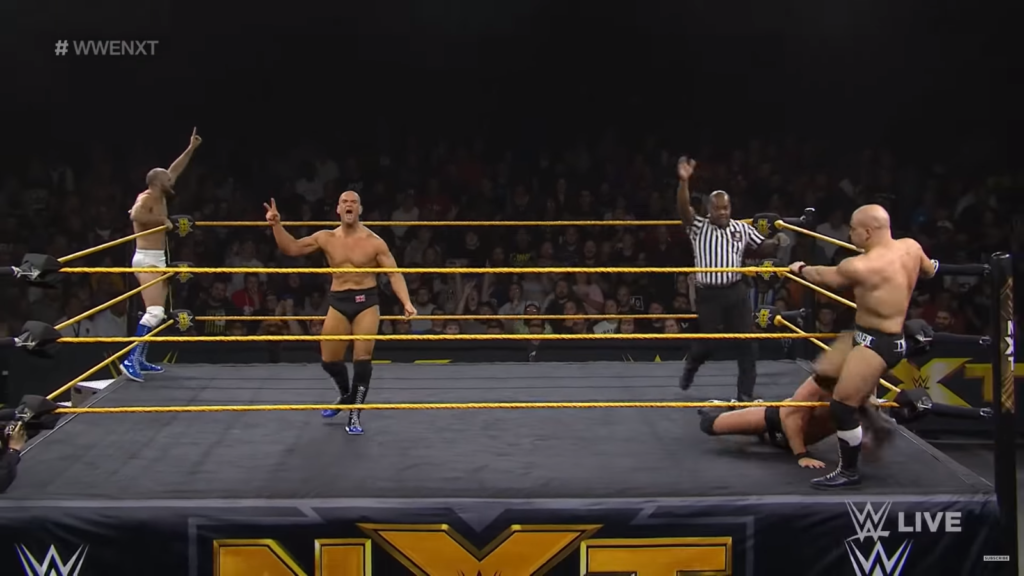 Io Shirai v. Kayden Carter
The genius of the sky has one thing in mind and that is becoming NXT Women's Champion. She sent a strong message to the entire NXT women's division by making short work of the young Kayden Carter.
After the match, Io attempted to send a message to Rhea Ripley, Bianca Belair and NXT Women's Champion Shayna Baszler, however, Rhea Ripley came down to the ring and got in the face of Io.
She stated that if she ever spits her name again, there will be nothing that will stop Rhea from shutting it. The tension is rising in the NXT women's division. All scraping to become the #1 Contender for the NXT Women's Championship.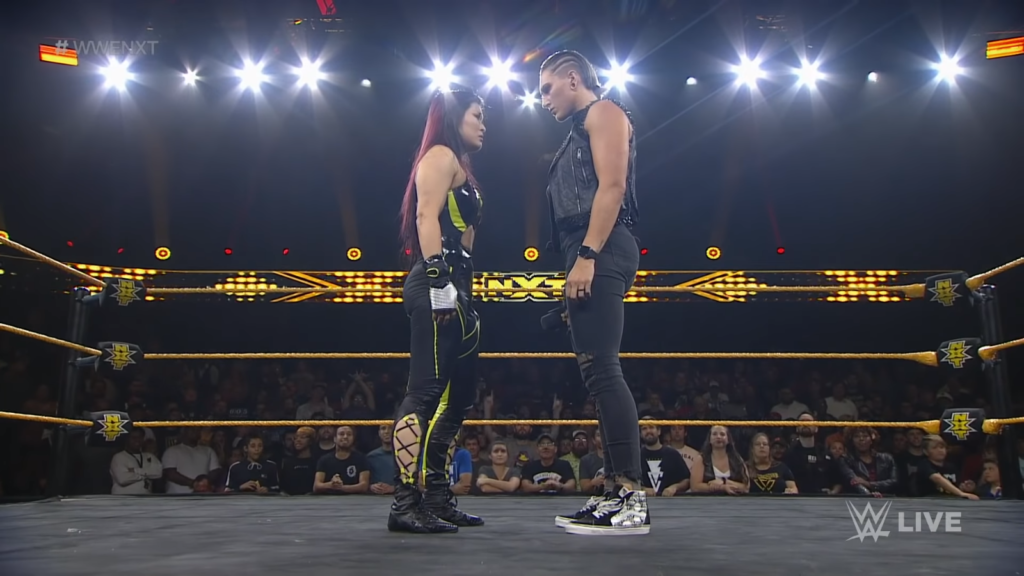 Keith Lee v. Dominik Dijakovic: #1 Contenders match for NXT North American Championship
The third and final match in the rivalry between these two gladiators will determine the #1 contender to the NXT North American Championship.
These two behemoths wreaked havoc all through the NXT ring.  These two have destroyed each other for months and tonight was taken to another level. These two threw every shot at each other. The goliaths hit each other with leaps and moves that men their size shouldn't be able to do. The winner of this match was going to be the last man who is able to stand.
With championship implications, the reward is even higher. Dominik attempted to knockout Keith with every kick and shot in his arsenal. Keith would hit Dominik with every conceivable dive and even a poison rana. Think about that, a 300 lbs man doing a poison rana on 6'5 giant. 
Keith looked to be closing in on victory, however, NXT North American Champion Roderick Strong ran into the ring and laid out both Keith Lee and Dominik Dijakovic. Roderick thought since there was no winner, he doesn't have to defend his title.
However, NXT General Manager William Regal announced that next week, Roderick Strong will defend the NXT North American Championship against both Keith Lee and Dominik Dijakovic in a triple threat match. A major backfire by the Undisputed Era and the North American Champion Roderick Strong.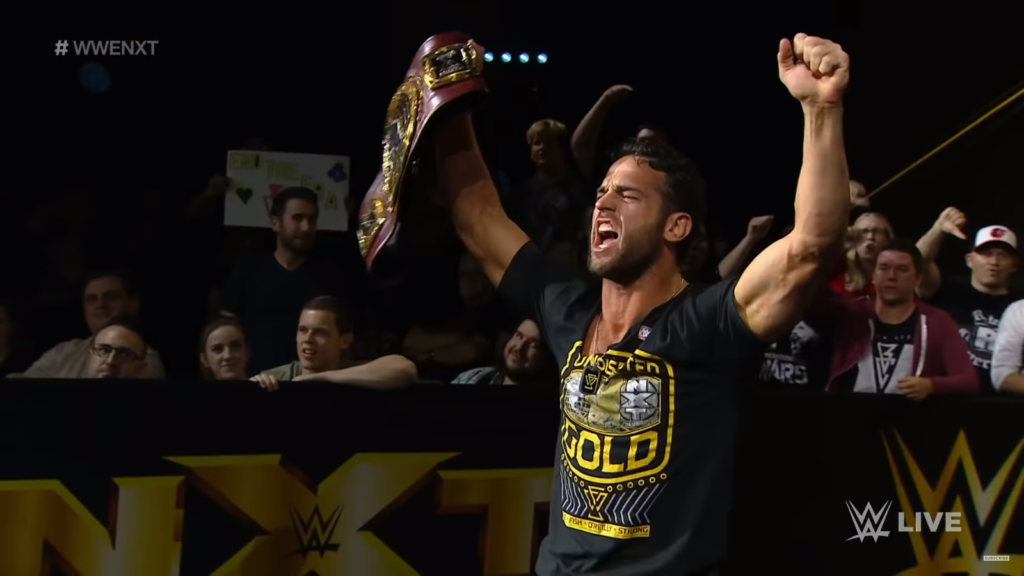 Matt Riddle v. Bronson Reed
For the first time since being a heartbeat away from becoming NXT Champion, Matt Riddle returns to action against NXT resident Big Boy Bronson Reed.
The match started fast and action-packed. Each threw massive blows and kicks to each other. Each did their homework on each other, countering every massive attack each competitor threw. The 300 Ibs Bronson Reed knows the opportunity at hand. If he could upset Matt Riddle, that would be the biggest win in his career and skyrocket his stock in the NXT ranks.
However, the Bro knows how to overcome challenges from all comers. He was able to use his strength and hit a massive slam on Bronson for the pin and the win.
Tegan Nox v. Taynara
After missing over a year of action due to severe knee injuries, Tegan Nox made her valiant return to NXT. Her road back has been long, but she is now back in NXT, trying to rewrite her story and the first chapter is competing against the Brazilain fighter Taynara.
Taynara is no afterthought. She used her black belt in Judo to get a big advantage over Tegan, but her ego got the best of her.
Taynara's ego allowed Teagan to mount a comeback and allowed her to hit the Shining Wizard for the pin and the win.
After the match, Teagan was greeted by her friend Dakota Kai, someone else who had to overcome injuries to get back to NXT. However, NXT Women's Champion Shayna Baszler and her trio came down and sent a message to Tegan stating she should count her blessings before she chases the NXT Women's Championship.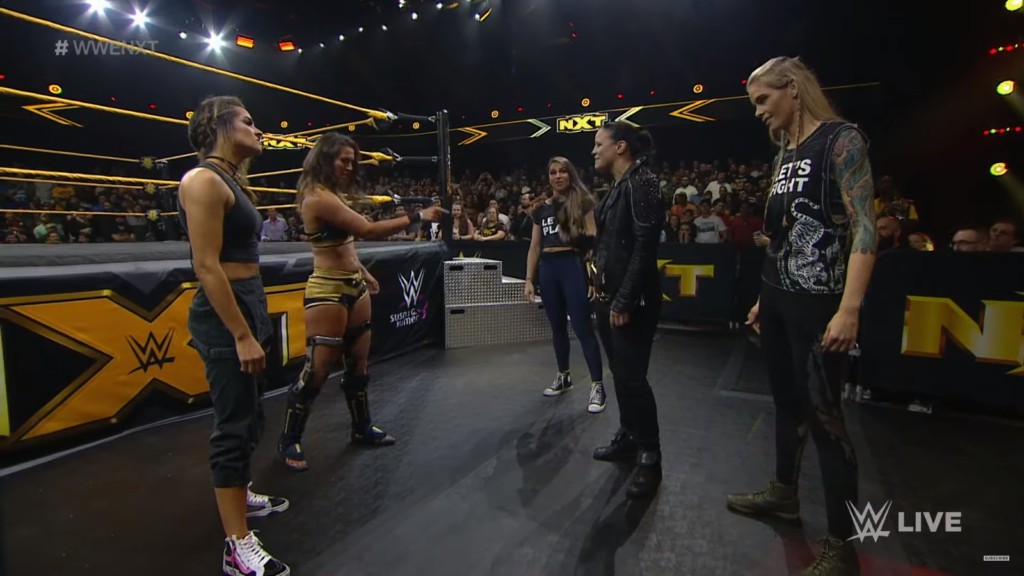 Boa v. Killian Dain
The Chinese Superstar Boa was viciously attacked by the Beast of Belfast Killian Dain. Boa demanded to William Regal to get his hands on Killian Dain.
The two massive men threw every clubbing blow to get an advantage in this all-out battle. However, it was Killian Dain who was able to use his massive side to destroy Boa. After hitting three massive Vader Bombs, he was able to lock in a modified Camel Clutch for the submission victory. Dain's destruction has only begun.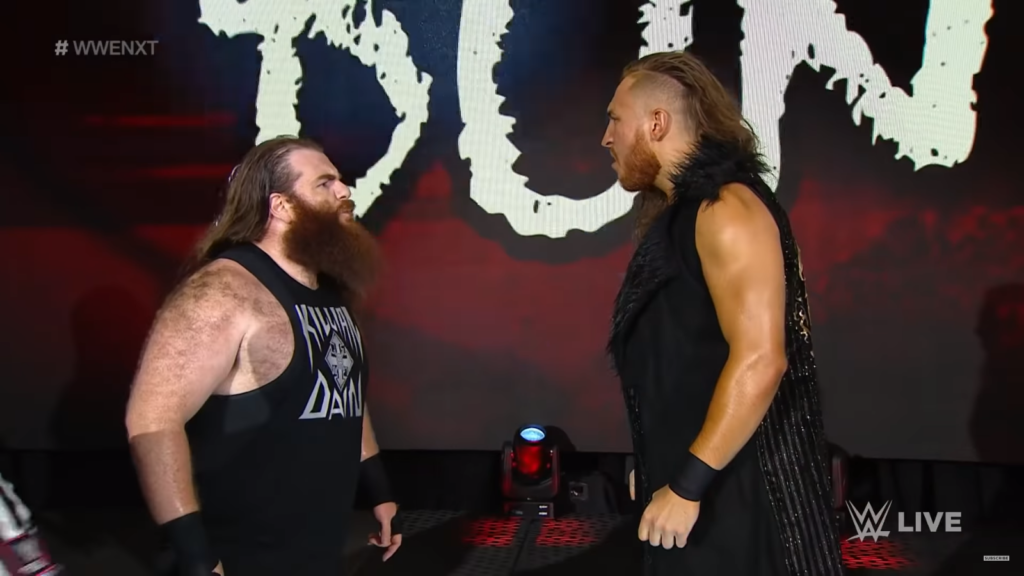 Pete Dunne v. Damien Priest
For weeks, Damien Priest has tried to get in the head of Pete Dunne. Now it was time to put up or shut up. If Priest wanted to create a stir in NXT, defeating the longest reigning champion in history, the former WWE United Kingdom Champion would do the job well.
The master of joint manipulation Pete Dunne quickly took over the opening of the match. Bending Priest's arm in a way it shouldn't bend. Also stopping him from gaining any sort of momentum by hitting massive moves in both inside and outside of the ring. However, Damien was not going to allow opportunity to slip from his fingers.
These two fighters went to a back and forth war, attacking each other with massive blow after massive blow with no one getting an edge in sight. Each were jockeying for position and not allowing anyone get an advantage. The NXT Universe in Full Sail on their feet wanting these two to fight forever.
Dunne was looking to break the digits of Priest, but their scrum absorbed the referee who had to escape. With her back turned, Damien hit a low blow on Dunne which allowed him to hit the Reckoning for the pin and the win.
A massive win for Damien Priest over one of NXT's top superstars. What does the future have in store for him next?
Conclusion
This was another action-packed episode of NXT. From the return of Tommaso Ciampa to the massive feuds bubbling in the NXT women's division, NXT continues to look up and grow into the future.
The future lies in NXT with a massive roster of talented competitors. Wednesday nights are getting better on a weekly basis.
David Jacobus
Staff Writer