In 2019, women in WWE have finally been given the chance to perform at a high level on a huge platform, often getting several long segments on Raw and Smackdown each week.
   They have even main evented weekly TV and pay-per-views as well, such as Hell in a Cell 2016. Plus there have been constant rumblings that this year's WrestleMania will see the women closing the show.
   It's great to finally see WWE investing in their female athletes and giving them the time and tools to be seen on a similar level as the men.
   Talents such as Asuka, Becky Lynch, Ronda Rousey, Charlotte, Bayley, Sasha Banks, Nikki Cross and so many more are producing Match of the Year candidates whenever they step into the ring, especially in NXT.
   The women's "evolution" really started in 2015 on the main roster when Stephanie McMahon called up Becky Lynch, Sasha Banks and Charlotte to shake things up in the division.
   We got a faction war between the Submission Sorority team PCB (Paige, Becky, Charlotte), Team B.A.D. (Beautiful and Dangerous) and the Bella Twins (plus Alicia Fox for some reason).
   From there Charlotte became the clear favorite, beating Nikki Bella and holding both the Divas title and winning the new WWE Women's Championship at WrestleMania 32.
   More women would be called up, with varying success (Alexa Bliss got the rocket strapped to her almost immediately, while I don't even know what Dana Brooke does now).
   Then in fall 2018, Becky Lynch shattered the glass ceiling and became "The Man," one of the most consistently entertaining and over gimmicks in recent memory.
   Needless to say, we've come a long way from bra and panties matches, or Ivory getting booed by Attitude Era fans for expressing her desire to wrestle long matches.
   Yet there's a really big issue I have with the way the women's "evolution" (or revolution, I don't know what's proper anymore) has been presented on TV.
   Whenever something important happens, say the first ever pay-per-view featuring exclusively women, or the destruction of the ugly Diva's title or perhaps the first ever Women's Royal Rumble, who is there to announce it to the world?
   It's not just an announcement made by the commentary team or brought up by any of the wrestlers during the show.
   No, front and center is the woman who created the women's evolution (trademark) and is responsible for all good things that have happened to women, Stephanie McMahon.
   In these announcements, all of the women's roster stand up on the stage, holding hands and cheering along as Stephanie says that this is a historic moment and we all should feel good that we are able to witness it.
   It doesn't matter if the women standing next to each other are faces or heels, or even involved in a rivalry, they'll cry together and hug and stand like trophies for the McMahons to gawk over.
   The worst part was when Steph tried to get a "Yes" chant going when she announced the Women's Royal Rumble.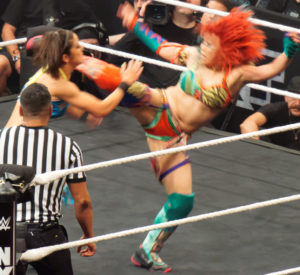 It all feels so forced and being pushed just so the company can get positive publicity and brownie points for promoting equality.
   If it really was equality, there would be no long segment of the McMahons patting themselves on the back, while trying to get fans to forget their long history of degrading the women, such as making fun of their weight on TV or giving them farting gimmicks, just to name a few examples.
   Instead of that, they should just have the commentary team make a short announcement about it during the show.
   However, a much bigger issue I have with the presentation of the "evolution" is how the history of women's wrestling before Stephanie single handily saved it is treated.
   If you listen to WWE commentary or watch their network specials on it, it all points to either the Bella Twins or Stephanie McMahon being the person who got the women's revolution on track.
   This isn't true. Those three played a role, but definitely shouldn't be credited as starting it. For christ sakes, the Bellas are the embodiment of what's wrong with women's wrestling.
   But there are at least five people that have a much bigger claim of starting the better treatment of women wrestlers, and I'll name them here and state my case.
5. The "Divas" (Beth Phoenix, Mickie James, Michelle McCool, Layla, Eve, Kaitlyn, etc.)
   Let's go back to like 2007-ish, a time when WWE couldn't care less about the quality of women's wrestling. The only women that got a push were former models that used the company as a springboard to other pursuits.
   Yet from 2007 to 2015 there were some really great women's wrestlers that put time and effort into the craft, often getting punished for it.
   This included Laycool, Mickie James, Beth Phoenix, Eve and Kaitlyn, just to name a few.  
   They were given limited time and support to produce memorable matches and moments and did the most with what they were given. Eve and Kaitlyn had a nice rivalry and could both go on the microphone.
   Laycool were great heat magnets and both members did a good job of giving their all in the ring.
   Mickie James and Beth Phoenix are great wrestlers and were able to get good matches out of all of the "Divas" era wrestlers.
   Though this group of women had their legs cut out from under them and weren't given the tools to succeed, their efforts are appreciated and helped inspire other generations of women's wrestlers to push for better treatment.
4. Paige/Emma
   Paige and Emma got their start in NXT, the developmental brand for WWE. While there they were able to perfect their craft and get a decent amount of time to wrestle.
   The two faced off in 2013 in the finals of a tournament to determine the inaugural NXT Champion. Paige won the title and held it for over 300 days.
   Yet the high point of this rivalry was at the first NXT network special, "Arrival," where the two fought one last time over the championship.
   These two got plenty of time to work and put together an awesome match, with Paige winning in the end.
   In my estimation, this match was the start of women's wrestling being taken seriously again, as only a few months later Paige debuted on Raw and beat AJ Lee for the Divas Championship.
   They had a really fun series throughout 2014 and proved why they deserved the spotlight.
   Unfortunately, Emma's career didn't turn out as well as it could've been, but she did have some good moments in NXT. She deserves props as well for her contributions to women's wrestling.
3. Triple H/NXT
   Back in the early 2010s Triple H took control of the fledgling Florida Championship Wrestling developmental brand of the WWE, and transformed it into NXT.
   It's been documented that one of his focuses was putting more focus on the female competitors.
   This was shown when he hired and helped nurture the talents of Paige, Emma, Charlotte Flair, Sasha Banks and Bayley, among many others.
   The current crop of top women on the card all came through NXT, and praise Triple H as one of the figures responsible for them getting an opportunity.
   If not for his booking of fantastic matches like Natalya vs Charlotte, Sasha vs Becky or the fatal four way between the four horsewomen at Takeover Rival, the company may not have taken the opportunity to focus on women's wrestling on Raw and Smackdown.
   It's funny that Stephanie takes a lot of the credit for the work done by her husband in propelling women's wrestling forward (as a disclaimer, I'm sure the two talked and traded ideas back and forth about this stuff, but it is not treated that way on WWE TV, and that's what I'm basing much of this article on).
2. Ronda Rousey
   The current Raw Women's Champion made headlines and paved the way for women in sports back in the octagon.
   She joined the UFC in 2012 and held the UFC Women's Bantamweight Championship for three years, defending it successfully six times.
   She was known as the toughest female on the planet and gained mainstream popularity for her fights.
   After being given the blessings of the late great Roddy Piper, Rousey used his "Rowdy" nickname during her career, further linking her to professional wrestling.
   She earned several quick victories, often knocking or tapping out her opponents before the 30 second mark. Another Rousey trademark was a tremendous amount of trash-talking before the bout, similar to Conor McGregor, who was coming up around the same time.
   From 2013-2015 Rousey was one of the most popular and highest drawing athletes in the world.
   While her fall from MMA was quick and painful, it can't be denied that her reign of dominance showed that women in combat sports can be a legitimate main event draw, and had to have played a role in WWE giving the women a chance to do the same.
Honorable Mention: The WWE Fans
While sometimes the WWE fans do their best to set women's wrestling back, like the Raw after WrestleMania 31, where the raucous crowd chanted "You suck Cena" to Nikki Bella and similar chants to Naomi and others, they still pushed to see something different.
No matter who started the #GiveDivasAChance movement, it wouldn't have mattered or gotten anywhere without the fans making their voices heard.
It was this movement and the fans buying into superstars like Becky Lynch and Charlotte that propelled the women to being more than just the "bathroom break" match.
1. AJ Lee
   Yet, without question, AJ Lee is most responsible for starting the women's "evolution." From late 2011 to her departure in 2015, Lee was a constant fixture on WWE TV.
   She would wrestle fun matches against Kaitlyn, have long promo segments as the GM of Raw, and throughout 2012 shack up with John Cena, Dolph Ziggler, CM Punk, Daniel Bryan and even Kane (in storyline only, with the exception of CM Punk).
   She was constantly given a platform to perform when none of her contemporaries would. Her charisma and in-ring ability were able to resonate with fans of all kinds, even when the WWE couldn't care less about their treatment of women's wrestling.
   Lee had a raw passion for the sport, and it showed in how she could get any segment or opponent over.
   In addition, she was not shy about calling out the WWE's hypocrisy, as she put Stephanie McMahon on blast and started the #GiveDivasAChance movement.
   She also put the Bella Twins in their place after dropping a pipebomb saying that talent is not sexually transmitted.
   For showing the WWE fans and the company brass the value of women in wrestling, as well as carving out a fantastic career in her own right, AJ Lee stands out as perhaps the biggest pioneer of modern women's wrestling.
Henry Wolski
Executive Editor