With weather shifting between dreary snow, overwhelming fog and rainy days we are all looking forward to the coming spring and the slightly more controlled climate it brings.
   There is probably no one else hoping for the coming season more than fashion designers and models who recently brought this year's spring fashion week to a close.  
   The week featured up and coming trends and key items to look for to keep your wardrobe fresh and new just like the spring we are all hoping for.
Women's Fashion:
   Unfortunately despite the desire for warmer days, colors this season will not be taking the same approach. Designers like Gabriela Hearst featured an "assortment" of colors in sand, tan, cream and khaki.
   This array of monotone hues were seen across numerous runway shows and no doubt will be making its way to mass retailers soon.
   Size seems to be replacing our desire for colors by filling the empty void when it comes to dramatics. Finding its birth on Instagram with Insta-celebrities, designers have followed suit and brought in oversized hats into the game for this spring.
   If you're looking for inspiration look no further then last summer's Instagram feed.
   Designers like Valentino, Burberry and Simone Rocha brought their models down to Earth this season with fancier flats.
   These not-so-simple but much more practical shoes will give your pumps, stilettos and feet a break this spring and summer for those always wanting to keep their fashion game up to par.
   This spring won't be completely void of color. If you are a Sinclair student looking to stay stylish while supporting school pride, this is definitely your season.
   Vividly colored tartan appeared in the streets of New York, London and Paris all season. And anyone knows the streets are becoming just as much a style indicator as the shows themselves.
   Bringing back the 80's are over the top puffed shoulders. Minimal is over. Try this trend if you're looking for a powerful "Dynasty" inspired style. To keep this look from becoming too overbearing and looking dated mix it with a more streamlined silhouette with minimal accessories.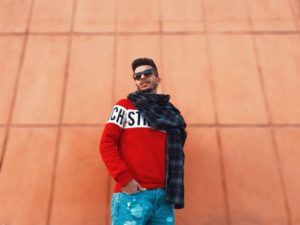 Men's Fashion:
   Men, if you are looking for an accessory this season that is not only stylish but functional, cross body bags are it. As a student, they help carry those overpriced textbooks while keeping things organized and functional.
   Designers like Dior Men and Louis Vuitton featured these amazing carryalls this season. Dior revamped their classic saddlebag while Louis Vuitton created a more minimalist croc-embossed leather.
   There is no greater word when it comes to fashion then tailoring. Regardless of what trends are hot or what is in style, when an outfit is tailored to your individual form it automatically updates the look and makes it better for you.
   Tailoring for men takes a new approach this year with shades of teal, red and bold patterns.  
   Color trends seems to be crossing our socially constructed gender walls this season. Men as well are hopping on the bandwagon with shades of brown, sand, cream and khaki when it comes to all over attire. This trend is pretty simple to replicate by playing off of a more monochromatic color palette.
   Slim fit pants will be phased out by winter's end this 2019. Men in the know will be opting for a more streamlined straight leg pant rather than the skin tight pants of seasons past.
   Remember, if you choose to follow this style that the tailoring mentioned earlier is still key to pulling it off.
   Social media seems to have a strong hold on the fashion industry for good and bad, controlling yet another of this seasons accessories.
   Even as the snow breaks scarves will become a hot men's accessory for the chill spring air. Opt for scarves with bold colors and prints to pop against neutral tones.
   Winter seems to be holding on this year, but by sprucing up your wardrobe with new trending items for Spring 2019 you may find your way out of these winter doldrums quicker than the rest.
James Novotny
Staff Writer