On Feb. 8, 2019, Ariana Grande released her latest studio album "thank u, next." Published by Republic Records, this will be Grande's fifth studio album and is the follow up to her previous album "Sweetener" from last year.
   Grande had been working on this album since October of last year and enlisted writers and producers such as Tommy Brown, Max Martin, Ilya Salmanzadeh, and Andrew "Pop" Wansel.
   This album was created out of Grande's feelings surrounding several personal matters during this time, including the death of her ex-boyfriend Mac Miller back in September and the break up with her fiancé Pete Davidson in late October.
   As a result of Miller's death, Grande announced she would take a hiatus from music a month later. However, she revealed she had been working on new music during her time away. along with stating she would be holding the Sweetener World Tour in March 2019 in support of her fourth album along with her latest release.
   Without prior announcement, Grande released the song "thank u, next" on Nov. 3, 2018. It became a commercial success and peaked at the top of the charts in 12 countries and became Grande's first number-one single on the US Billboard Hot 100.
   In addition to this,  the song has broken several records including that of the most plays in a single day by a female artist on Spotify.
   Only four days later, Grande performed the lead single on "The Ellen DeGeneres Show" on Nov. 7.
   Along with this, a promotional single was released on Dec. 14 called "Imagine." She performed it live on "The Tonight Show Starring Jimmy Fallon" on Dec. 18.
   The second single "7 Rings" was released on Jan. 18, 2019. As with "thank u, next," this track also performed well on an international scale, peaking at number one in 15 countries and resulting in Grande becoming the third female artist to have two or more songs debuting at the top of the US Billboard Hot 100.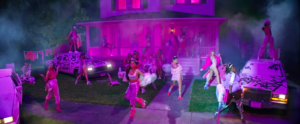 The album has 11 tracks, including the previously mentioned three. The rest of the titles are "needy," "NASA," "bloodline," "fake smile," "bad idea," "make up," "ghostin," "in my head," and "break up with your girlfriend, i'm bored."
   Overall, the total length of the album is 41 minutes and four seconds with the longest song being "ghostin," at four minutes and 31 seconds and the shortest being "make up" at two minutes and 20 seconds.
   All tracks are stylized to be in lowercase letters with the exception of "NASA."
   Ariana Grande was born on June 26, 1993 and began her career in 2008 with the Broadway Musical "13."
   From there, she starred as Cat Valentine in the Nickelodeon series "Victorious" from 2010 to 2013 along with reprising the role for the spin off "Sam & Cat" from 2013 and 2014.
   Republic Records signed her in 2011 after she appeared on the "Victorious" soundtrack along with the music executive Monte Lipman finding her YouTube video covering songs.
   On May 22, during Grande's Dangerous Woman Tour in 2017, the tragedy known as the Manchester Arena Bombing occurred. A suicide bomber detonated an explosive within the foyer of the arena after the concert, leading to 23 fatalities and over 500 injuries.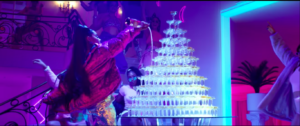 Less than a month later, Grande held a televised benefit concert called "One Love Manchester" and helped raise $23 million to aid the victims and their families. Several other musical artists performed including Justin Bieber, Katy Perry and Miley Cyrus.
   In Dec. 2017, "Billboard" magazine named her Female Artist of the Year. In 2018, the same magazine named her Woman of the Year.
   Despite all the negativity that has plagued her life, Ariana Grande's lyrics of "thank u, next" can ring true for years to come: that people and events can teach you love, patience and pain, but someone can always look forward to what's next.
Erika Brandenburg
Arts and Entertainment Editor