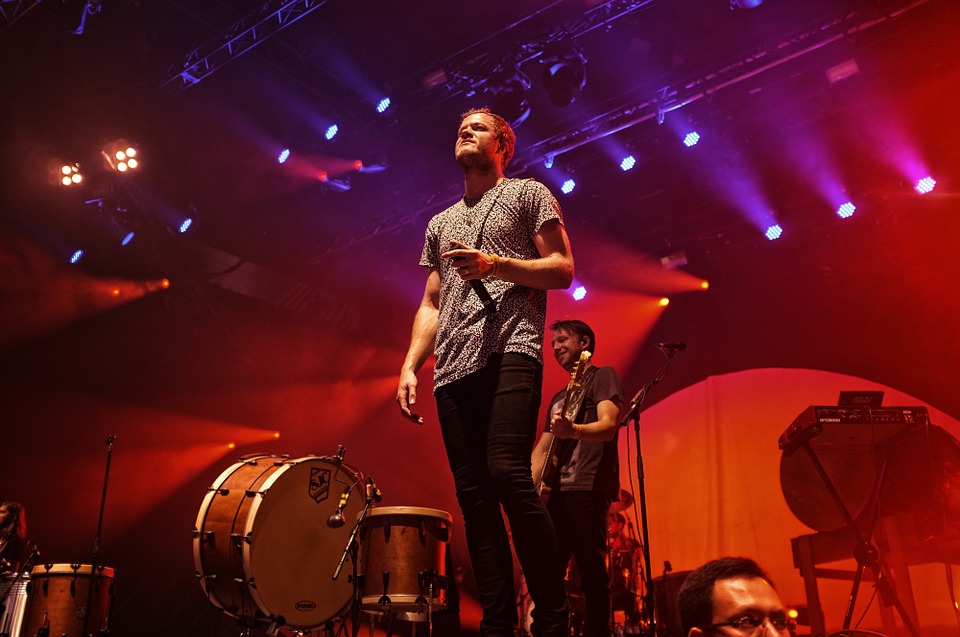 On Oct. 3 the pop-rock band Imagine Dragons announced they would be releasing their fourth album "Origins" on Nov. 9, 2018.
   Two singles have been released so far, one being "Natural" on July 17 and has since become the anthem for the ESPN College Football season this year.
   The second single is "Zero" and it was released on Sept. 19. It will be used as the end credit music for the upcoming movie "Ralph Breaks the Internet."
   Both of these songs serve as the lead singles to "Origins" which has been stated to be the sister album to their previous one "Evolve." The release of this fourth album will complete that cycle in their music.
   Imagine Dragons formed in Las Vegas, NV in 2008 when lead singer Dan Reynolds and drummer Andrew Tolman met at Brigham Young University as they were both students at that time. Eventually, the duo gained Andrew Beck, Dave Lemke and Aurora Florence to play guitar, bass and piano respectively.
   Over the course of the first couple years, members came and went from the band. Beck and Florence left in 2008, leading to the recruitment of Wayne Sermon, a Berklee College of Music graduate, as the band's new guitarist.
   Tolman then brought his wife Brittany on board for back up vocals and to play keyboard. With a few more switch outs occurring and leading to the recruitment of Ben McKee as bassist, the band has finally gotten a solid line up.
   Their first huge break came in the form of the Bite of Las Vegas Festival in 2009. They were called in to fill for Train after their frontman fell ill, leading to them performing in front of a crowd of over 26,000 people.
   The group ended up with a large following in their hometown of Provo, UT before they moved to Las Vegas. There, the band recorded and released their first three EPs.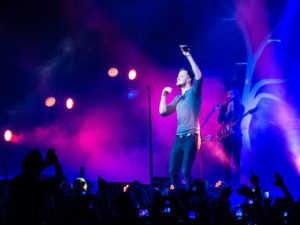 Two were released in 2010, one with simply titled "Imagine Dragons" while the other is "Hell and Silence." The third came about in 2011 under the name "It's Time" prior to the band being signed a record deal.
   November 2011 Interscope Records signed the band's record label and the band began to work with English Grammy winning producer, Alex da Kid. Prior to this, the Tolmans left and Daniel Platzman came into the band in August 2011 through an invitation from McKee. Theresa Flaminio came aboard as well as the keyboardist, only to leave in early 2012.
   Their first full length album "Night Visions" was released on Sept. 4, 2012. The first week of sales had 83,000 copies sold along with the album peaking at number two on the Billboard 200 chart, making it the highest charting rock album since 2006.
   The second single on the album "Radioactive" broke multiple records including spending 87 weeks total on the Billboard Top 100, and remained number one on the Hot Rock Songs chart for 23 weeks along with over seven million singles being sold.
   On Feb. 17, 2015, the band came out with their second studio album called "Smoke + Mirrors." During this era, they released a number of separate singles such as "Battle Cry" for the "Transformers: Age of Extinction" film and "Warriors" for the 2014 League of Legends World Championship.
   The band took a hiatus for the rest of 2016 after their tour, citing that they "haven't stopped in, like, six years, so we've forced ourselves to at least take a year off."
   However, on Sept. 27, 2016, the band began to tease their third album by simply tweeting "studio." Over the next several months, they posted cryptic messages up until the release of the lead single "Believer" on Feb. 1, 2017. The full album "Evolve" was released months later on June 23, reaching the top five in several countries to mixed reception.
   Throughout the career of "Imagine Dragons," they have received several awards and nominations for their music. Since they debuted, they have won one Grammy Award, three American Music Awards, and nine Billboard Music Awards along with several accolades.
Erika Brandenburg
Arts and Entertainment Editor