Meet…
   Cassidy Bartlett is a Business and Administration major at Sinclair Community College hoping to transfer to a four-year college for International Relations.
   Part of a family that includes eight children, Cassidy recently had the opportunity to travel the globe and experience different cultures. From her travels, she has gained a unique perspective on life that is worth sharing.
Why she's interesting…
   In Oct. 2017, Bartlett left for the Brazilian city of Cornelio Procopio as a foreign exchange student. Here, she tried several local foods, attended classes at a local school, and witnessed the immense poverty in Brazil firsthand.
   She also experienced one of her happiest memories during her time in the exchange program: reaching the peak of Pico Do Agudo, a mountain in the small town of Sapopema.   
   "That was amazing because nobody thought I could do it, and one of the guides had to stay with me, but I ended up hiking eight miles up a mountain, which included climbing rocks and crossing streams and going into these caverns," she said.
   She continued:
   "It was fantastic to finally just get to the top of the mountain and be able to see out over the entire valley."
   In terms of her proudest aspect, Bartlett chose her bilingualism; she can fluently read, write and converse in both English and Portuguese.
   "I didn't leave there until I was seventeen and when I did, I crossed the entire globe," Bartlett said, talking about her hometown of Germantown, Ohio.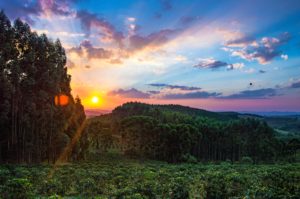 Before going to Brazil, she was enrolled at Valley View High School, and though she was a good student, Bartlett doesn't think much of her time there.
   "My high school experience was completely unremarkable," she mentioned. Coming from a small town where the graduating class is filled by two hundred people on a good day played a factor in her evaluation.  
   Bartlett's hobbies include writing poetry, reading, volunteering and attending her local youth group. Talking about an influential person in her life and what she'd learned from them, she mentioned that the leader of that youth group had educated her an important quality in life that she has always struggled with: patience.
   "She taught me that it's good to be able to, like, take a step back and think about what's going on, and then proceed, rather than just making snap decisions, and think right off the bat," Bartlett said.
   Bartlett hopes to someday use these skills by becoming the ambassador to Brazil. She herself admits this is a lofty goal, though she has her reasons for her aspirations.  
   "When I went overseas, I got to see that people were very, very similar to each other and that the only barrier was the difference in language," she said. "And yet, living in the United States, specifically in a time where Donald Trump is the president and there's such a divide between people of color and foreign immigrants, whether it's legal or illegal, I thought 'you know, there must be a reason that people feel this way.'"
   When asked about what her future holds, however, she was less certain.  
   "I don't know, and it's kind of exciting," she explained. "I know that I want to be in a job where I'm passionate and I want to travel the world. Past that, I don't know what it holds or really how it's gonna happen, but I'm along for the ride."
Maxwell Patton
Reporter