February is here and love is in the air. Feb. 14 marks this year's Valentine's Day and it's sometimes a touchy subject for both couples and singles.
   Sinclair students were asked about their thoughts regarding the day of love and how they plan to celebrate it.
   The many different interpretations surrounding the holiday and the ongoing debate of whether or not it even is a holiday often leaves many students perplexed in regards to the origin and meaning of Valentine's Day.
   It is not surprising that Valentine's Day is questioned by its participants and non-participants. Speculations may come from the different stories surrounding the origins of the holiday and what the day was actually intended for.
   One popular origin story suggests that during the third century, Roman Emperor Claudius II who desperately wanted to keep pagan customs alive created laws against Romans who converted to Christianity. One law, in particular, kept Christians from marrying.
   However, a priest named Saint Valentine felt love was very important. He believed the laws against Christians were unjust and knew it was his duty to marry and help Christians during this time of persecution.
   Unfortunately, Saint Valentine was caught, jailed and executed on Feb. 14. Thus, making him a Christian martyr. The day would later be referred to as St. Valentine's Day almost 200 years after his death when Rome fully became Christian.
   Another origin story suggests that before his death, he wrote the first Valentine greeting card and signed it "from your Valentine," which is still a phrase used to this day.
   Saint Valentine's reputation became so well known that it spread throughout Europe and is now considered an international holiday.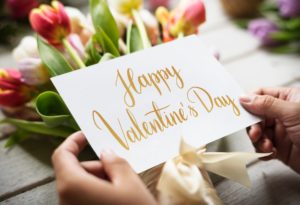 When Sinclair students were asked what Valentine's Day meant to them and how they planned to celebrate it, many stated that it was a regular day but they still used the day to cater to their significant other or spend time with their loved ones.
   Sinclair student Matt Bellott states "I do not believe in chocolates and flowers but overall I think Valentine's Day has a good meaning."
   Within the survey group, 6 out of 10 Sinclair students stated Valentine's Day was just another day while 3 out of 10 students stated they have a special surprise for their significant other.
   Sinclair student Rusty Paquay states "I use the day to show affection, but I don't believe it should be a commercialized holiday."
   Two out of 10 students said they are going with the traditional dinner, movie, Netflix and chill approach. On the other hand, 3 out of 10 students stated they were not going to participate in the tradition this year.
   When students were asked who is the best gift giver 4 out of 10 claimed it was a family member or friend that always gave a good present. However surprisingly, there were 4 out of 5 guys that stated they were the best gift giver in comparison to their significant other.
   Therefore, ladies, you know what that means: we must step up our game this year. Go the extra mile and really wow him.
   Even though you have all year to make someone feel special, start this year off right this Feb. 14 by getting the perfect gift or spending quality time your loved one or significant other.
Angel Hopson
Reporter
Gabrielle Turner
Social Media Coordinator