9/28/19: Max Foster
#MeetTheStaffSaturdays is back, and we're going to spotlight our photography team, so you know who the friendly people asking to take your picture at campus events are.
First up is the Multimedia Specialist Max Foster (Pen Name Elijah Greenwood).
Max is a second-year student at Sinclair and is majoring in the EMS/Fire Science program. Outside of school he works as a firefighter and writes a Tumblr blog about mental health.
His interests include sports, photography and equestrianship, and he plans to be a professional paramedic/firefighter after college.
Fun fact: Max's favorite cheesecake is New York Style.
Come back next Saturday to learn about the next member of our photography department.
8/3/2019: Kenya Dawson Jackson
Welcome back Clarion Family, we are here with another #MeetTheStaffSaturdays! This Saturday, we have Kenya and she is also an intern with The Clarion.
Kenya is a 24-year-old Multimedia Journalism major at Sinclair. Kenya has one son named Houston and another son due on Halloween. Outside of her kids, she likes to read urban fiction and write anything from editorials to urban fiction.
As far as future plans, Kenya plans on taking a short break from school and enrolling at the University of Dayton in the spring, where she plans to obtain her Bachelors' degree.
In the future, Kenya hopes to work for COX media group or another company where she can write articles or manage their social media pages.
A fun fact about Kenya is that her favorite social media outlet is Twitter. She says she likes Twitter because you can be your true self and not be judged. Twitter is where you go to express how you really feel and find others you can relate to.
The Clarion wishes Kenya the best now and in the future! Stay tuned for next week's #MeetTheSaturday member!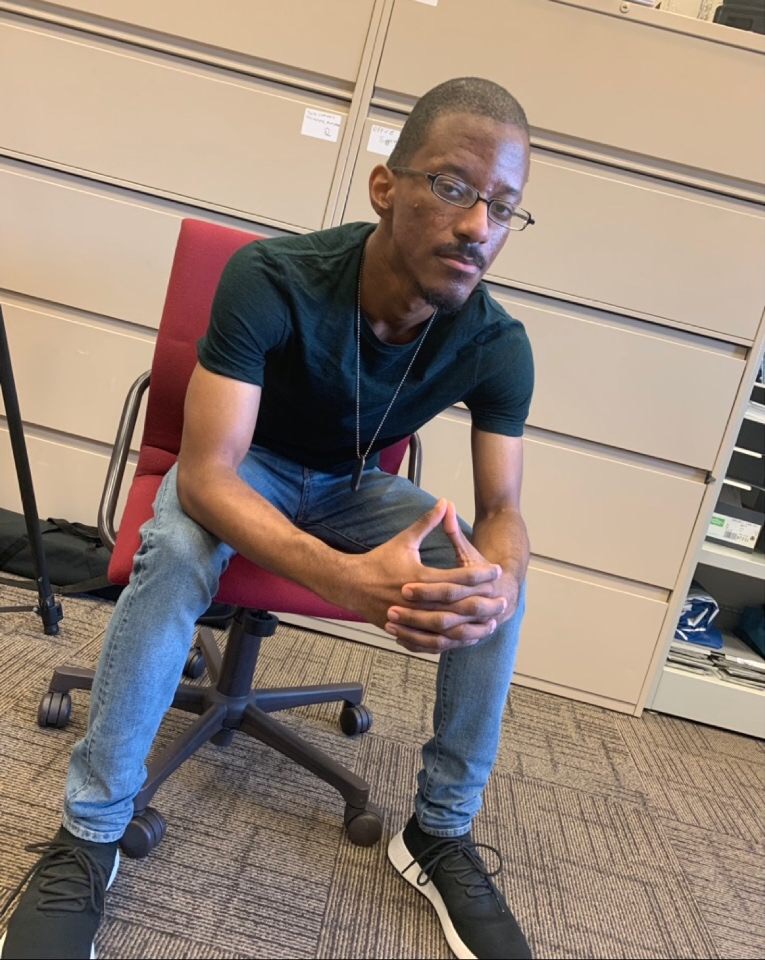 7/26/2019: Quinton Bradley
For this Saturday's #MeetTheStaffSaturday, we have Quinton Bradley! He is currently an intern for The Clarion.
Quinton is 24 years old and majoring in Multimedia Journalism. His interests include writing, blogging, reading, philosophy and politics.
In the future, Quinton plans on attending a university to earn a bachelor's degree in journalism with a minor in journalism.
A fun fact is that Quinton's favorite book is "The Autobiography of Malcolm X" and he describes it as a "gem". He checked the book out several years ago on a whim. It took him four days to read the almost 500-page book and got lost in the story of a man who went through two evolutions before his death.
The Clarion wishes Quinton the best now and in the future! Stay tuned for next week's #MeetTheSaturday member!

7/13/19: Charlie Bruno
Welcome back Clarion Family, we are back with #MeetTheStaffSaturdays! This Saturday we have marketing representative, Charlie Bruno.
Charlie is a 20 year old Business Management/Digital Marketing major. Charlie is from Puerto Rico and has only been in Ohio for about 2 years now.
Charlie's interests include being a DJ for weddings and he also does photography. To see some of his photography, you can follow his IG (@x_art_by_charlie_x).
As far as the future goes for Charlie, he plans to go to Wright State to finish his degree and potentially own his own night club.
A fun fact about Charlie is that his favorite music is bachata, which is Latin American music. He likes bachata music because of the certain dancing that accompanies it!
The Clarion wishes Charlie the best now and in the future! Stay tuned for next week's #MeetTheSaturday member!
7/6/19: Samuel J. Claude
Hello Clarion Family, we are back with #MeetTheStaffSaturday!
This Saturday we have Samuel J. Claude! Sam has been at Sinclair for 2 and a half years, majoring in multimedia journalism.
Even though Sam is busy with work and school, in his down time he enjoys catching up with old friends. Sam enjoys classic rock and roll music.
Sam's interests also includes collecting retro items such as VHS, vinyl records and old gaming systems.
As far as the future goes, Sam is undecided at the moment. For now, Sam hopes to better The Clarion newspaper in terms of marketing, accessibility and content quality.
A fun fact about Sam is that his favorite holiday is Christmas! He enjoys Christmas because he gets to celebrate Christ's birth and at the same time, he is able to reminisce cherished memories with loved ones, as well as make new memories!
The Clarion wishes Sam the best now and in the future! Stay tuned for next week's #MeetTheSaturday member!
6/29/19: Phil Christian
So we are back with another #MeetTheStaffSaturday! This Saturday we have Phil Christian, the business manager of the Clarion.
Phil is a 20-year-old business major here at Sinclair. He plans to transfer to the University of Dayton this fall to enroll in their marketing program.
Phil loves food, electronic dance music, and sketch comedy. He also likes entrepreneurship, hence his future major.
As far as the future goes, Phil would like to work in Chicago and then hopefully move out to California.
A fun fact about Phil is that his favorite TV show is Trailer Park Boys. Does anyone else enjoy this show?
We wish Phil nothing but the best on his future endeavors!
Stay tuned for next week's Saturday Staff member!
6/22/19: Richard Foltz
#MeetTheStaffSaturdays
Hey everybody, meet Richard Foltz, the managing editor at The Clarion! Richard is a 32-year-old English major who has worked at The Clarion since spring of 2019.
Richard enjoys reading and writing and even though he writes a lot for work, he also enjoys writing about fiction and music. He also enjoys playing and listening to Indie music, going to the movies and listening to murder podcasts.
As far as the future, Richard would like to find a writing job and afterward, he would like to write fiction and record music in his non-existent garage on the side for fun. He dreams of a life in suburbia with multiple dogs.
Currently, he has a super lazy, five-year-old beagle named Piper.
A fun fact about Richard is that his favorite animals are gorillas. He finds them to be very majestic and they also have very sad eyes.
6/15/19: Henry Wolski
Hello everyone, meet Henry Wolski, executive editor of The Clarion!
He is 23 years old and a multimedia journalism major at Sinclair. He has worked at the Clarion since Fall 2016 and enjoyed every moment of it! He has made so many friends and gained a lot of skills from working at Sinclair.
A fun fact about Henry is that he has a 2-year-old Rottweiler that is the cutest thing ever! His dog is 120 pounds and acts like a complete goofball.
Henry enjoys playing video games in his free time, he has even bought a Nintendo Switch a few weeks ago and has been playing a lot of Super Smash Bros.
For the future, when he is done with classes at the end of the summer, he plans to start the process of applying for jobs in the journalism field. He wants to further his journalism career by using what he has learned at The Clarion.
When asked about his favorite movie, Henry responded: "That's a tough one, and it probably changes depending on how I'm feeling. I love Anchorman, and I've loved it even before I chose journalism as a profession, and I can quote quite a lot of it. So today it's Anchorman."
Posts created by Kenya Dawson Jackson