NXT is going to make history as they are primed to be apart of Survivor Series as they take on Raw and SmackDown. The war is indeed on within WWE as NXT has invaded and has made their presence known on both Raw and SmackDown.
After the Yellow Brand invaded WWE's flagship programs, their stars will fight some of the top main roster talents at Survivor Series. Will there be retaliation to Triple H's handcrafted show in Full Sail?
The OC Invade NXT
Members of Monday Night Raw, Luke Gallows & Karl Anderson alongside the United States Champion AJ Styles made the first shot of retaliation as the trio took out The Undisputed Era backstage. After the beatdown, the OC made their way into the ring and called out anyone who wanted to try to stop them.
Out came Tommaso Ciampa. Ciampa and AJ traded verbal blows regarding what truly is the main roster of WWE and what brand is truly superior. After the two ended their verbal tirade, AJ realized that there was no one behind Ciampa to defend him from the invasion by the OC.
Then, out came Keith Lee and Matt Riddle. Ciampa then offered a challenge to AJ and The OC for a match later in the night, which they accepted.
Pete Dunne v. Damien Priest
In the opening contest, Pete Dunne sought out to avenge his loss from two weeks ago against one of NXT's fastest rising stars, Damien Priest. Can Pete Dunne rebound or will Damien Priest continue his momentum on his strive to the top?
This smash mouth match was a slugfest. These two men threw shot after shot at each other, trying to gain every possible advantage over their opponent. Pete is a master of joint manipulation and will pick apart every piece of the human body. While Priest continued to use his size to gain an advantage.
Priest seemed to be using the same tactic that won him their first encounter, but Pete was able to use it dodge and it Priest with a low blow. Pete was then able to lock Priest in an armbar for the submission victory.  With his back against the wall, Pete stepped up and picked up a massive victory.
After the match, Killian Dain attacked both Pete Dunne and Damien Priest. His focus was on Pete Dunne, but the fact that Damien tried to get in his way infuriated Dain. Dain is no man that you would want to get in the way of, unless you want to be apart of his destructive path.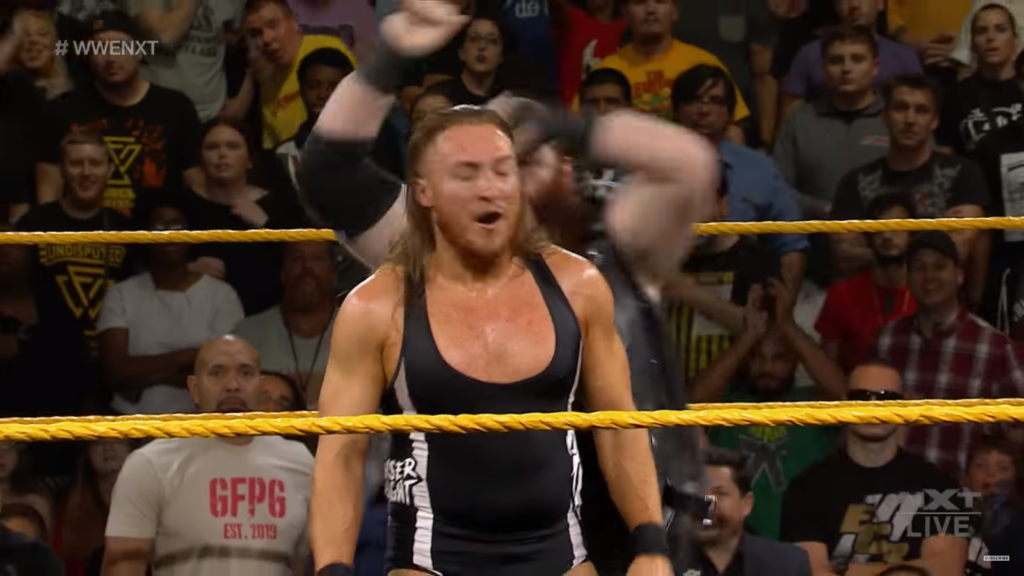 Related Articles
Taynara v. Santana Garrett
The next contest puts two of upcoming stars of the NXT Women's Division Taynara and Santana Garrett
These two women put on an impressive match. Both seem to have bright futures ahead of them. Taynara, however, was the one who was able to capitalize off a counter of a missed moonsault by Santana. Followed by a massive running knee strike for the pin and the win.
With a spot open in both teams in the War Games match at TakeOver, was this an audition to team captains NXT Women's Champion Shayna Baszler and Rhea Ripley for a possible spot?
Dakota Kai v. Shayna Baszler
With War Games and Survivor Series on the horizon for NXT Women's Champion Shayna Baszler, she is going to have to put her focus on someone she has a long history with, Dakota Kai. Dakota has to also send a message to Rhea Ripley and show why she deserves a spot in the War Games match, but facing someone who has put her on the shelf in the past, can Dakota overcome the odds?
Shayna quickly took control of the contest. Shayna used the size advantage to pick apart Dakota. She also used her experience to outsmart any possible momentum Dakota tried to build. However, Dakota has the heart of a warrior.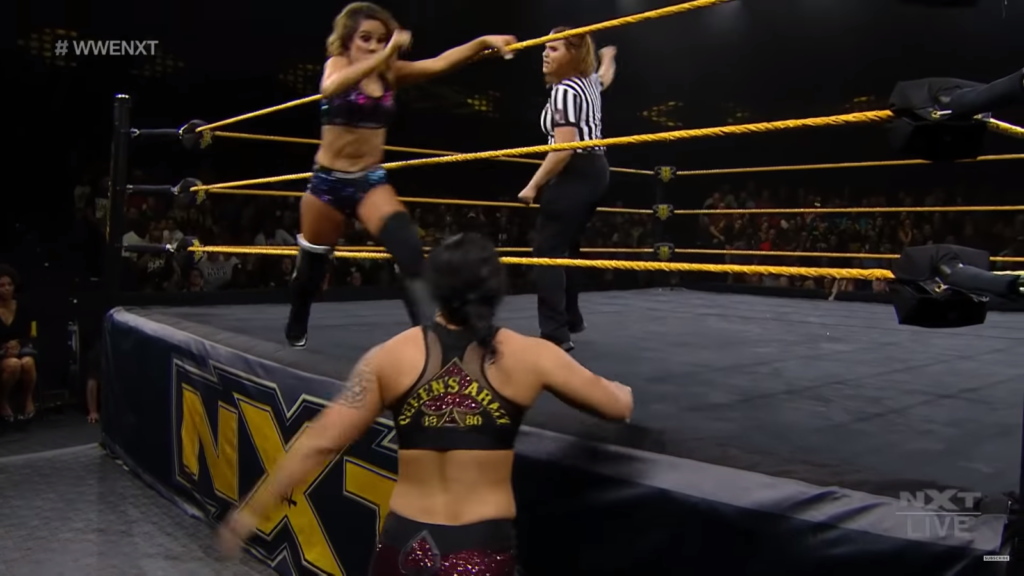 Dakota tried on multiple occasions to knock off Shayna, but Shayna is one of the most dominant champions in NXT history for a reason. She was able to put a halt to Dakota's possible comeback and lock in the Kurobuta Clutch for the submission victory.
After the match, Shayna and her horsewomen attacked Dakota. Which ensued an all-out battle between the two teams in War Games. Shayna's team seemed to have the advantage until Mia Yim entered the fray with a kendo stick and started to swing for the fences. She took down and laid out every member of Shayna's team. Is Mia the last member of Rhea's army as they head towards War Games?
Later in the night, Rhea chose Mia as the last member of her team at War Games. However, Dakota showed discomfort in Rhea's decision.
Tony Nese v. Angel Garza
Mr. Pectacular and former Cruiserweight Champion, Tony Nese has made his way to NXT in search to regain the Cruiserweight Championship. However, his first challenge involves the #1 contender Angel Garza
The match started slow, but not in a bad way. There was a feeling-out process with several holds and reversals, with both trying to get an advantage. Nese began to quickly gain frustration of the flamboyance of Angel Garza. Garza continued to get in the head of Tony with his signature pull away pants.
The two continued to throw haymakers at each other in a very back and forth contest. Each man knew what opportunity was at stake in this match. However, it was Angel Garza who was able to hit a variation of a double underhook sitdown powerbomb for the win over Tony Nese.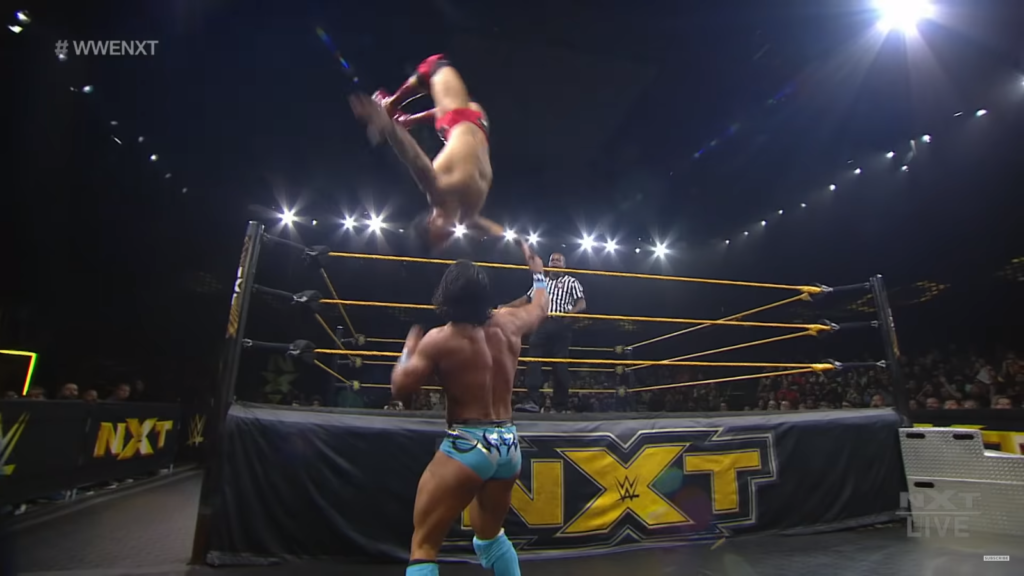 After the match, NXT Cruiserweight Champion Lio Rush came out and locked eyes with Angel.  The two face each other next week for the Cruiserweight Championship and Lio attempted to shake hands with Angel before their bout. However, Angel slapped Lio as possible mind games are being played by the challenger. Who leaves next week as Cruiserweight Champion?
Isiah "Swerve" Scott v. Dominik Dijackovic
Swerve has been on a roll over the past few weeks since debuting in NXT. Can he continue his momentum by taking down the massive Dominik Dijakovic? Who will win, the speed of Swerve or size of Dijackovic?
Swerve knew if he wanted to beat the massive Dijackovic, he needed to slow the big man down, but when ur facing someone with the athleticism of Dijakovic, it seems impossible. But, that won't stop Swerve.
Swerve continued to take the fight to Dijackovic both through the air and with powerful strikes. But, Dijackovic made sure the world was going to feast their eyes on him. Swerve looked to be closing in on a major victory, but Dijakovic was able to hit the massive Feast Your Eyes knee strike for the pin and the win. These two put on an impressive match as both looked to increase their stocks in NXT.
The OC v. Tommaso Ciampa, Keith Lee & Matt Riddle
In the main event, three of NXT's top stars look to defend their brand as they take on three of Raw's top stars. AJ Styles, Gallows & Anderson make their NXT debut against the impressive team of Ciampa, Lee and Riddle.
Before the bell rang, the six men brawled all over the ring. The war to prove brand superiority is on the mind of all of these men.
Once the bell rang, AJ and the OC took quick advantage of the match. However the advantage did not last long once Lee entered the ring. With the NXT Universe cheering on Lee, he was able to take down each member of the OC.
The OC, however, was able to use the numbers game to get an advantage over Ciampa. With double teams and cornering him in their corner, can Ciampa recover and make a tag to a partner?
Riddle was able to get the hot tag and with a full head of steam, he was able to take out every member of the OC. Riddle looked to be on his way to taking down the United States Champion, but the OC tried to use the numbers game to get the momentum back in their favor.
Yet Lee and Ciampa both entered and cleared house, including Lee curling Luke Gallows. But, the massive size of Lee cleared also the referee out of the ring.
Mayhem would then ensue as each man recklessly put their bodies on the line, in the name of brand supremacy. Ciampa looked to be closing in on hitting the Fairy Tale ending, when Finn Balor made his presence known. He locked eyes with former "Club" member AJ Styles.
AJ would then attempt to hit the styles clash on Ciampa, but Adam Cole would hit AJ with a superkick. Cole would then hit the last shot on Ciampa as Cole locked eyes with Finn. What is the dynamic of the relationship between Finn Balor and Adam Cole?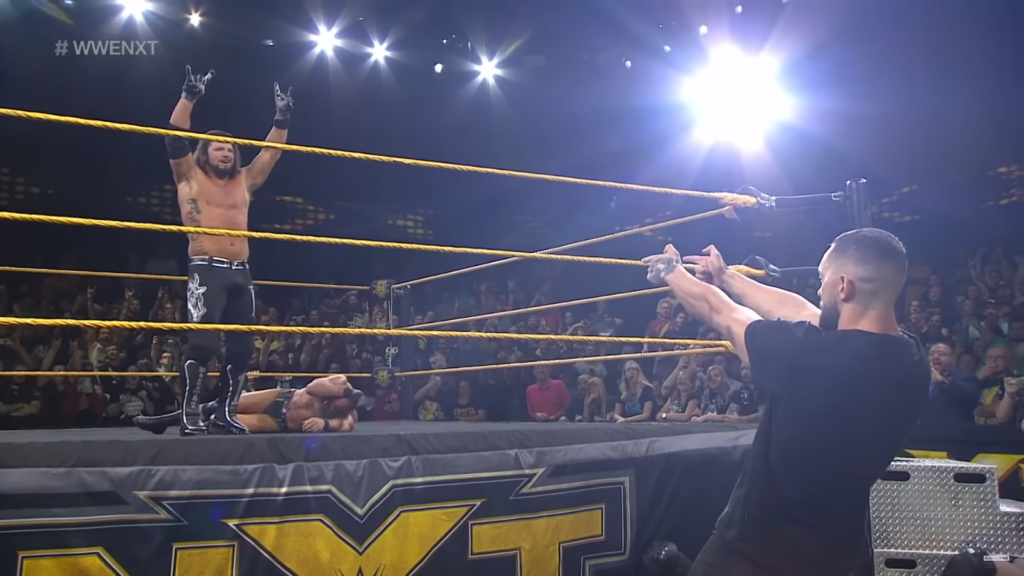 Conclusion
This was another great episode of NXT as we are on the road to both NXT Takeover and Survivor Series. With one just a little over two weeks until Survivor Series weekend, the war is definitely on within WWE. who is the superior brand in WWE? Wednesday nights will never be the same.
David Jacobus
Staff Writer