"It's crazy cause I'm like crossing the street, having this conversation with myself, like what's that noise and the horn noise was just getting closer, like, vrrrm! Then I saw the car and bam!" said Phillytf of the car that ran into him as a child on Salem Ave.
Windshield glass stuck into his arm, blood poured from his skin and he woke to find his friend telling him he had just been hit by a car. One thought was on his mind, he said. That thought? That he and his friend had to make it to the park to play basketball.
It was this sort of spirit that carried Philly throughout his life. Real name Clifford Holt, Philly grew up on the west side of Dayton, Ohio, spending much of his early days playing basketball.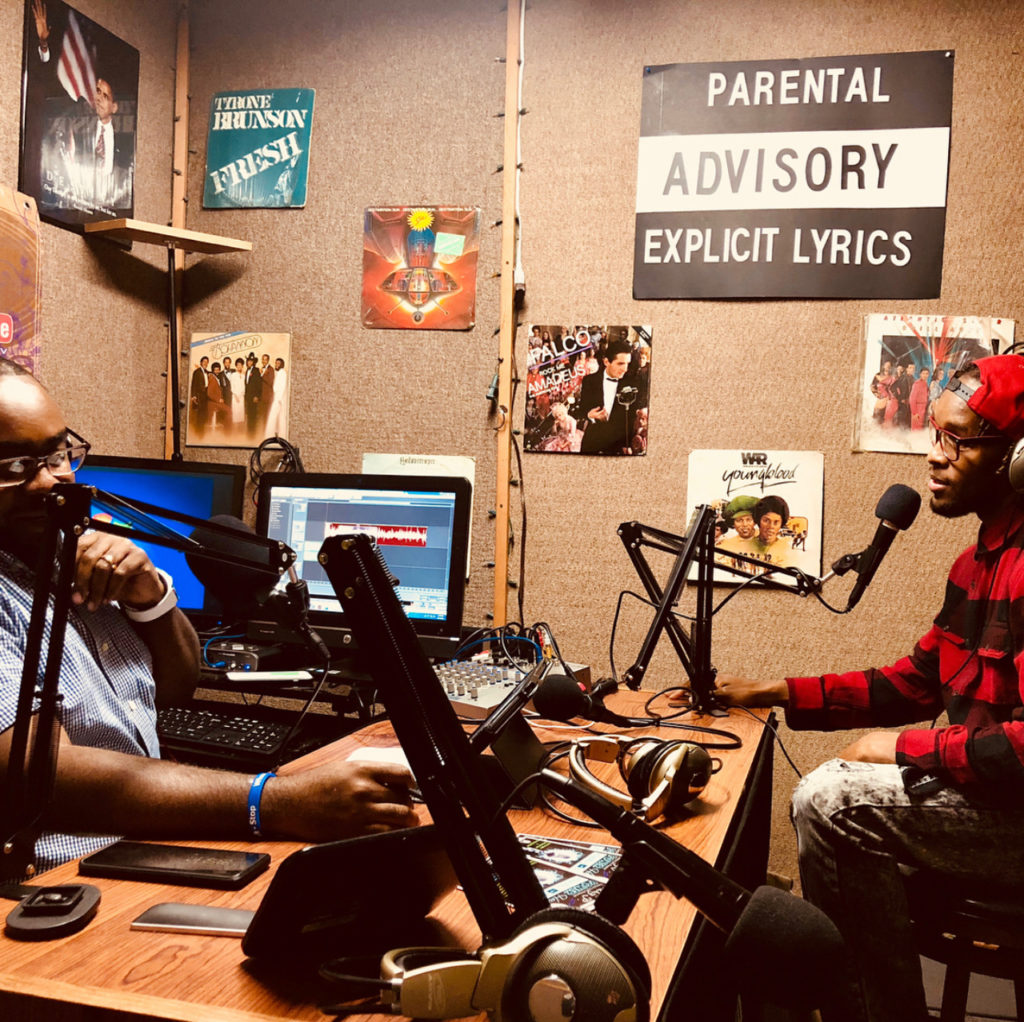 Of the crash that happened on his way to a basketball game in the park, Philly said that it was one of the more important moments in his life. A moment that changed his perspective, and an instant that would plant a seed that would later grow in his later life.
"It helped me really believe that there are angels. Like, guardian angels," said Philly of the crash.
Philly said that he had spent his teen years generally not taking life seriously, something that is inevitable with the transitory period of late adolescence.
"There's certain points in your life where you kinda go through some things and you kinda feel like, man, there's gotta be something more," Philly said.
At Sinclair, Philly immediately immersed himself in his education, receiving a 4.0. He completed his schooling here at Sinclair in a year and a half before moving on to the University of Dayton (UD), with a concentration in sociology, later switching to a degree in business as his music career began.
"I didn't take any quarters off, I just went, all fall, winter, spring, summer; just went," he said.
At UD Philly made it all the way to finals week, and then just up and left.
"I just went, I'm done," he said. "I told my professors, I don't want to write another paper. And this is when I'd kinda started music. I was kinda touring, so between the two and my new found relationship with God I was like, I'm through.
"I'm burnt, from Sinclair and then to UD, I just was burnt and I pretty much just dropped out from there."
Growing up Philly's biggest goal in life was to play basketball in the NBA; playing all four years in high school, he was awarded a scholarship to play at Miami University in Oxford, Ohio.
Philly ultimately went to Miami but dropped out due to the pregnancy of his then girlfriend.
Music was a love that came later on.
"It's kind of one of those things where somebody will say, I didn't choose this. Like, it actually really chose me. I never had a passion for music, never even knew that I had a skill for it, it was just like basketball, that was it." said Philly.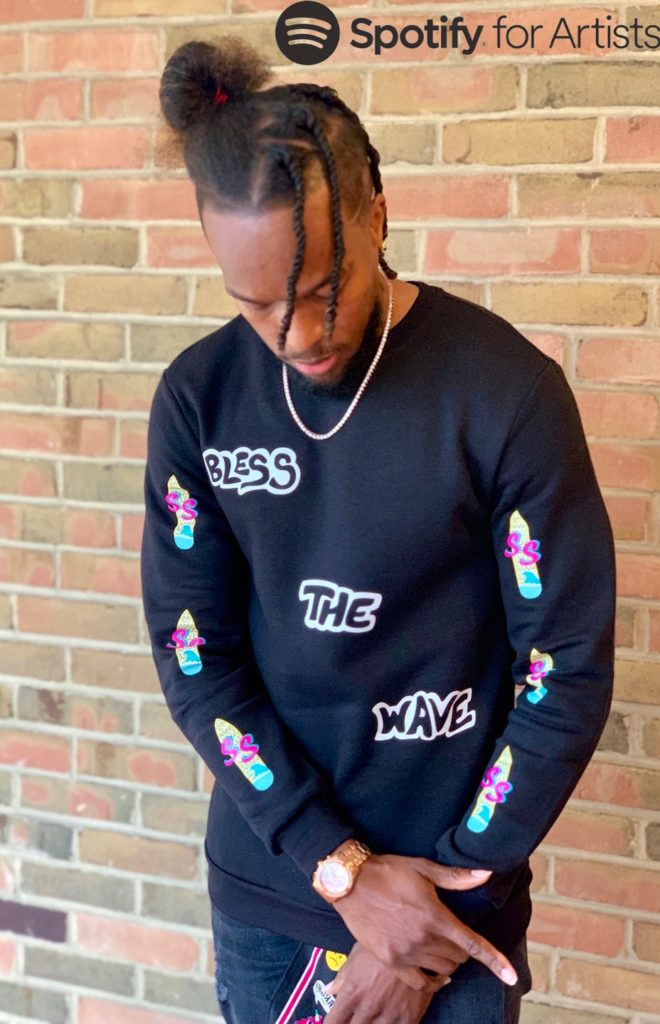 Growing up, Philly said that he didn't even get into hip hop until his sophomore year of high school, citing his dad's sheltering of him as a reason for his ignorance of it until then.
"Really my dad he had us kind of like…not like Quaker sheltered or anything like that but he really tried to steer us away from that part of culture just because he'd seen on tv how it looked," Philly said.
"So, he was just like, no rap music, nothing like that. And I think that's when, you know, especially as a kid, where you start to gravitate towards it even more, right?"
Philly's career started small, working locally with a group of people.
"Well, they brought me on and sort of groomed me. We were doing not like what you would call 'hardcore rap' but we were kind of promoting, you know, 'sex, drugs, money.'"
Philly, always the pursuant of bigger and better things in life, then made the daunting decision to move to Los Angeles.
"It was one of those things in life where you just go and pursue it; I always had this thing with LA without ever being there and I would tell my mom, you know, 'I'm gonna go to Los Angeles. I'm gonna live in Los Angeles.'"
The move was pushed further along by a music deal he had struck with Crucial Music, which is based out of Studio City, California. The deal was, in essence, a pitch deal, explained Philly, wherein the company used his music and pitched it for use in TV, film and other forms of media.
Philly bought a one way ticket to Los Angeles by selling an iPhone on eBay in under an hour, something that he says he took as a sign, which prompted him to take the risky ticket purchase.
"I was like, if I can sell this phone on eBay and it be gone within an hour, then I'll know I'm going to LA," said Philly. "But I'm gonna buy a one way ticket though. Cause if you buy a roundtrip ticket it's like a bit of a cushion. You know, it's like, I can still always come home. But if you make it a one way ticket there ain't no coming back until you decide to come back."
Philly spent seven hours in LAX, formulating a plan or at the very least what his next step would be, as all he had at that point was the deal with the label. He had no place to stay, no prospective income that was set, just a deal with a company.
"Alright, so I'm here. What am I doing? And to be honest at like the seventh hour I started to shed a tear because I was worried that I was gonna be homeless on day one."
This had not been the first time that the prospect of homelessness reared its head into Philly's life, as he had spent his early years after high school living out of his car, all while attending Sinclair until a church that he was attending gave him a key and a place to sleep.
"I was there so much that they just felt like I was really, really dedicated to being involved in the church. They gave me a key because they hadn't realized until then that I was actually staying there," said Philly.
"That was like a life changing moment cause it like woke me up. It made me realize, like, I gotta stop dreaming and really have a vision for my life," Philly added.
It wasn't until he had received a phone call from friends he had met at a wedding in Houston that he was set up with a place to live and soon he was on his way.
Since then his song "Sauce 2 Tuff" has been used in YouTube highlight videos for Browns wide receiver Odell Beckham Jr., his Spotify monthly listeners went from one to 5,000 and a new career in acting has blossomed.
Since then, Philly has been on episodes of "The Rookie," "Grown-ish" and shortly after our interview he posted a video on Facebook of him on the set of "Brooklyn Nine-Nine" with Terry Crews talking to a crew member in the background.
"I've always told people that, at the end of the day, Sinclair is what really, really impacted my life," Philly said. From just the understanding that, wow, I can make the Dean's List…Sinclair really taught me that if you really focus and you really lock in, with discipline and consistency and persistence it's really a blessing and opportunity."
Richard Foltz
Executive Editor