In a world with dozens of radio stations and nearly as many songs on all of them combined, it can be a chore just sifting the wheat from the chaff. Sometimes you just want something you've never heard before.
Well, folks, here it is: Two fantastic, brand-new albums from artists I would comfortably wager cold hard cash you've never before laid your soon thankful ears upon.
"Locution" is the latest EP by Gregory Bortnichak and it is something to behold. Sweeping and swelling complex cello melodies gush forth from every corner of this record, processed expertly through a system of pedals and effects that would make a NASA scientist order a shot and take up smoking.
Interestingly, the majority of this album is totally unique versions of some of the artist's favorite songs.
The records begins with a cover of Richard Wagner, yes that Richard Wagner, followed by an absolutely haunting rendition of Bruce Springsteen's "I'm On Fire," a cathartic re-working of Bob Dylan's "Momma You Been On My Mind," and the widely covered classic "Sea Of Love." There are also two slower, more introspective craftings of Bortnichak's earlier songs at the end of the album.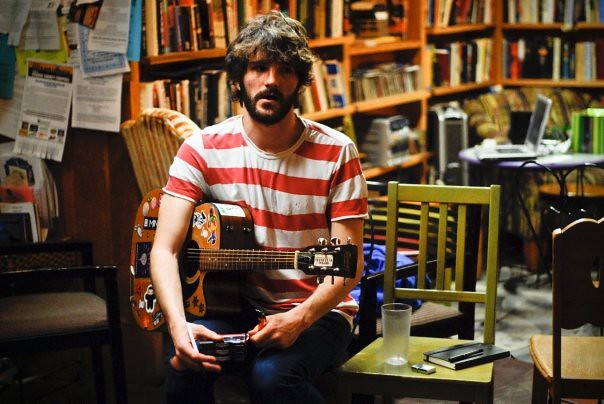 I have followed Bortnichak for years. Ever since seeing him destroy a cello bow and half of his guitar strings in a live set with his brother (on drums) in their long-time project Sparta Philharmonic, he has had my dedicated and loyal fandom. The guy plays like the whole universe depends on it, and you just don't see that enough anymore.
Related Article:
This album feels darker than usual, even for someone as intensely comfortable with facing the darker sides as Bortnichak seems to be. Sad and thoughtful and learning to find peace in sorrow. Kind of like the Buddha, but with more effects pedals.
This album was mostly a live home recording, by the sounds of the pedals clicking in and out, which gives it a very intimate low light kind of feel. I highly recommend some evening tea and a pair of headphones.
The second newly released jewel which I intend to bestow is from Brutus VIII. I can't say enough good and weird things about this guy. If you like things like gorgeously textured raw synth sounds with a little glitch thrown in, or '80s synth, new wave, or just good night driving jams, then strap in.
He's got an excellent sense of space. There is never a point when the music feels unnecessarily crowded and the low range soft industrial smoothness of the vocals mesh like a tailored suit. "Fraülein," in particular, carries this magical '80s movie climactic love scene vibe that hits the mark better than most who try.
Brutus VIII also has an intentionally crafted aesthetic to his live shows and social media that only add to the mystique, if not creepiness, of the whole experience.
If I was correct in my prediction, and you have never heard these guys before, let me go ahead and suggest strongly that you check out Brutus VIII's previous records, as well as Gregory Bortnichak's other projects; Sparta Philharmonic and Teach Me Equals.
If you like them, please follow them on social media. These are independent artists working hard and every bit of love counts tenfold on their end.
Brian Yoder
Reporter