Releasing on June 21, 2019, "Toy Story 4" will be shown to audiences worldwide. However, this was not the original release date and is the third announced date for the movie.
   The first theatrical release was scheduled for June 17, 2017, but the date was given to "Cars 3" and "Toy Story 4" was moved to 2018. From there, "Incredibles 2" took the slot as it was further along in production and "Toy Story 4" was shifted to its current date.
   The film will be directed by Josh Cooley and produced by Jonas Rivera and Mark Nielsen. The screenplay is written by Stephany Folsom, with the story being written by four people, them being John Lasseter, Pete Docter, Andrew Stanton, and Lee Unkrich.
   Randy Newman, the composer of the music for the previous three films, will be returning to compose this movie's soundtrack as well.
   Originally, there were no plans to further the already made trilogy. In 2010, Unkrich stated that Pixar was not planning another addition to the series. However, he said he was "flattered that people ask about it– it reminds me how much people love the characters."
   Still, he sought to create not just another sequel and that further opportunities nor plans to place Woody and Buzz on another journey have come to mind yet.
   Four years later, on Nov. 6, 2014, an investor's call confirmed that "Toy Story 4" was going to exist.
   Lasseter explained that Pixar gave another sequel the green light due to the passion for the series and the new direction a fourth film would take, as it would be a romantic comedy.
   The president of Pixar, Jim Morris, described it as such and that it would not be a direct sequel to "Toy Story 3," but a new story within the same universe.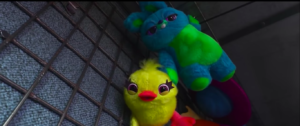 In July 2017, Lasseter stepped down from production, leaving Cooley as the sole director for the film due to commitment issues between the three companies he works for. He still works as the film's executive producer despite this.
   Two of the script writers left the project in Nov. 2017, citing "philosophical differences." From there, Folsom was given control of the story and ended up rewriting three quarters of the original script according to Annie Potts, the voice of Bo Peep, in June 2018.
   By the end of September, recording of the film was underway. Tom Hanks and Tim Allen reprise their past roles as Woody and Buzz Lightyear respectively. Their voice acting work for the film was finished on Jan. 30, 2019.
   New members of the voice cast include Tony Hale as Forky, and Keegan-Michael Key, Jordan Peele and Keanu Reeves as currently unknown characters.
   The plot starts off with the introduction of Forky, a craft project that was turned into a toy by Woody and company's new owner Bonnie.
   Unfortunately, he declares himself as trash and nothing like a toy when compared to the likes of the known characters. Woody, taking on the leadership role once again, decides to shoulder the responsibility of assisting Forky in embracing his nature as a toy.
   However, a road trip with Bonnie and her family leads to Woody taking a detour, leading to an encounter with Bo Peep (who was absent from "Toy Story 3"). Years have passed since they have seen each other and, with it, the tales that Bo Peep tells of her life on the road contradicts her porcelain exterior heavily.
   The least of the worries, in the end, is how far they've drifted in their relationship when a new threat enters their lives.
   The film will be shown in RealD 3D, Dolby Cinema, and IMAX 3D.
Erika Brandenburg
Arts and Entertainment Editor